Are you tired of spending countless hours writing copy for your website, only to find that it doesn't perform as well as you hoped? Look no further than Typli.AI, one of the best pieces of semi-automatic AI copywriting software on the market.
What Is Typli.AI – AI Generated Blog Posts?
Typli.AI is an advanced generative AI content creation tool that combines advanced AI Writing and an SEO Assistant to deliver a seamless and effortless content creation experience be it blog post writing or copywriting for business.
If you're looking for an AI article, content or blog writer with a lot of extra features and for an affordable price you've come to the right place. AI based content creation is the future!
This quite innovative tool is designed to help content creators, bloggers, marketers, and business owners alike, to streamline their content creation process and optimize their content for search engines. And it's available for a great price right now!
By harnessing the power of latest AI tech, Typli.AI provides an intuitive platform that allows users to generate high-quality content that resonates with their target audience and drives traffic to their website – with low effort!
With Typli.AI, you can save hours of writing time, as it is 500 times faster than humans and is able to nicely expand on all the ideas you put into its editor. Plus, it's way cheaper than hiring a human writer to write posts in bulk. Not only that, but every time you click generate, you're always sure that you'll receive 100% original content, free to use on your site without any trouble. All this is available to you right away in the 1$ / 7-days Typli.AI free trial deal!
You own the copyright for every article generated through your account, and there are no contracts involved in the deal. Typli.AI functions as a simple and affordable subscription service and you can cancel anytime you want. Plus, with a 60-day money-back guarantee, you can have a peace of mind that you won't be stuck with a tool that doesn't meet your needs if you won't be satisfied.
Keep in mind that Typli.AI gives you access to unlimited generation credits. Not many other tools do that for the price!
Typli.AI as a webapp works on any device, whether you're using a Mac, Windows PC, or mobile phone, as long as you have an internet connection. And with constant updates to enhance the tool, you can be assured that you're getting the best possible experience all throughout your journey with its rather interesting toolset.
Using Typli.AI you can not only create SEO-optimized content, estimate SEO keyword traffic, but also generate unlimited output so that you can produce as much copy as you need to keep your website(s) updated and fresh.
This is really nice if you plan to generate large amounts of content in bulk. Plus, you can easily export your content as a DOC or PDF after each generation. Neat!
While for now Typli.AI primarily supports English, the support for more languages is said to be coming to the platform really soon.
Is This Free? – What's The Deal?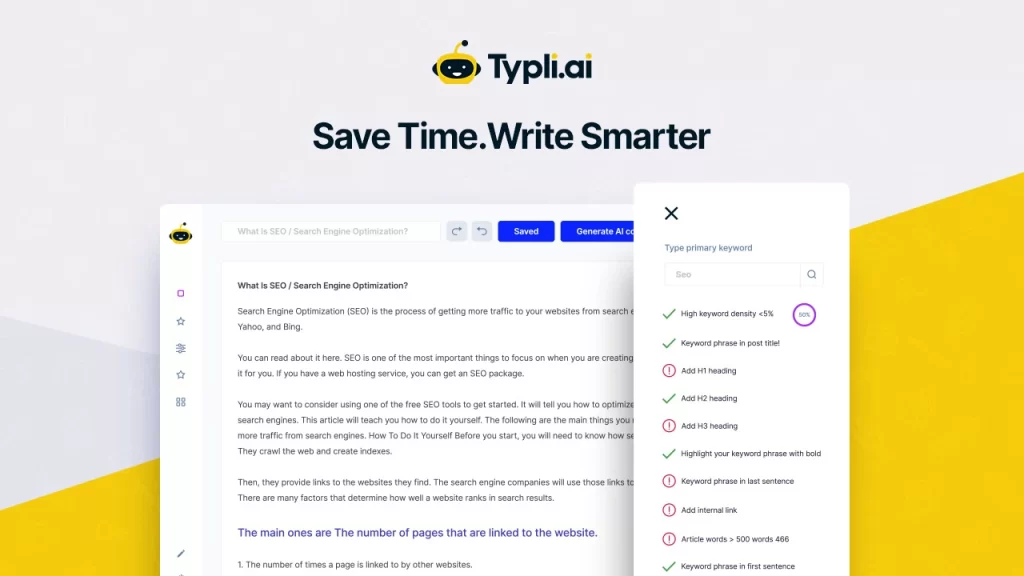 For just 1$ you can try out the full version of Typli.ai for 7 days to decide whether or not it's a good option for you. If you like it (and I certainly think that you will), then you can continue on with the subscription deal.
Don't waste any more time and money on ineffective and time consuming copywriting involving just the classic mehtods. Try Typli.AI today and see the difference it can make for your business. Get ahead of your competition with the power of AI on your side!
One of the most important aspects of copywriting is ensuring that it's SEO-optimized. With Typli.AI and its extensive copy-check toolset, you can easily create content that's optimized for search engines, which will in turn help drive more traffic to your website.
With team member access, you can collaborate with others and get their input on your newly created copy. This ensures that you're producing the best possible content for your audience. And there is much more to explore here!
So, what are you waiting for? Sign up for Typli.AI today and start experiencing the benefits of the best copywriting software on the market. With a 60-day money-back guarantee, you have nothing to lose and everything to gain.
Are The Generated Articles Free To Use?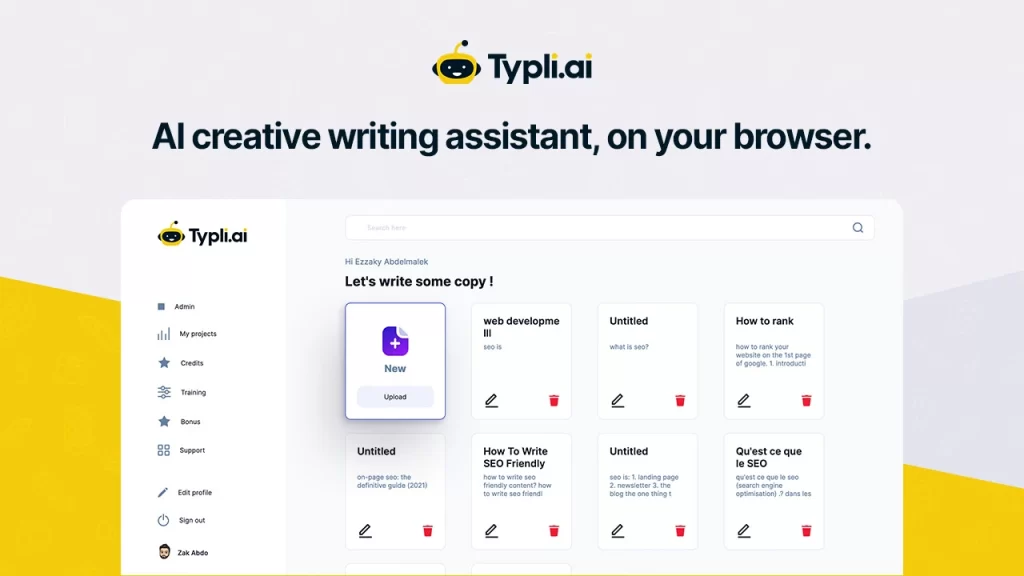 Yes! Typli.AI generates 100% original content which is yours to keep and use in any way you want. Whatever type of business you run, you are free to utilize your generated copy in all the contexts you can imagine!
Typli.AI's user-friendly interface makes it easy to navigate and use, even if you have no prior experience with copywriting or AI technology. And with constant updates and improvements, you can be assured that you're always getting the best possible experience and the latest features.
Don't settle for mediocre copywriting that fails to engage your audience and drive traffic to your website. Try Typli.AI today and see the difference it can make for your business. With its many additional features and benefits it comes with, it's a clear choice for anyone looking to improve and up their copywriting game and take their online business to the next level.
There You Have It – No Time To Wait!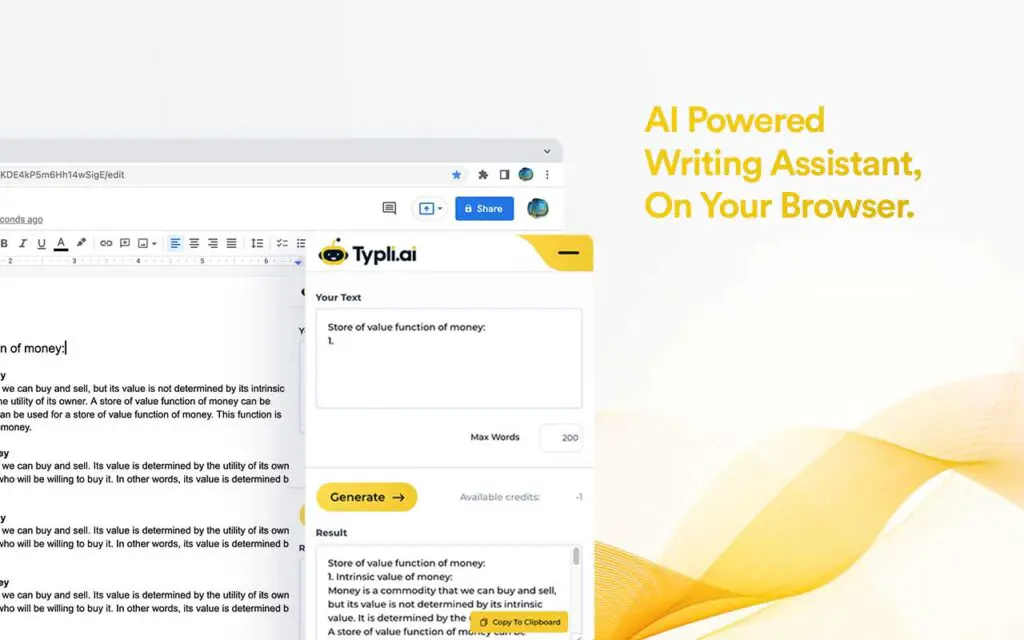 There are quite a few AI content writing tools out there, but Typli.AI has certainly caught my eye! As of now, you can still access the 1$ 7-days trial of all Typli.AI features. This will give you an even better idea on the tool and all its ins and outs, and let you generate some great articles that you can keep and use even after your trial is over!
Don't wait any longer and take a nosedive into the fascinating world of generative AI and next-level future worthy semi-automated SEO copywriting. Get access to Typli.AI content writing tools before your competitors do – seriously. Click the button below to get redirected straight to the Typli.AI official website!
[this article features affiliate links]