Is Samsung Galaxy Fold 4 worth getting today? Well, taking a closer look at this foldable smartphone we think we already have the answer. Here is our honest take on the SGS Z Fold 4 and a short comparison to the previous Samsung foldable device!
The Samsung Galaxy Z Fold 4 combines power, style, and convenience in a single (small not small) device. With its enhanced battery life, wider front display, Split Screen multitasking capabilities, and available storage capacity options, the Galaxy Z Fold 4 really does stand out on the market when compared to the previous iteration of the Fold series – the Fold 3.
[this article features Ebay & Amazon affiliate links]
Check out also: Samsung Galaxy S21 Ultra Today – Still Going Strong?
Samsung Galaxy Z Fold 4 – specification
Model:
Samsung Galaxy Z Fold 4
Photo:
Price:
Galaxy Z Fold 4 on Amazon | Galaxy Z Fold 4 on Ebay
Displays:
Interior: Foldable Dynamic AMOLED 2X, 120Hz, 7.6″, 1812×2176 px
Exterior: Dynamic AMOLED 2X, 120Hz, 6.2″, 904×2316 px
Max brightness:
1000 nits max – both displays.
OS version:
Android 12/13, One UI 5
Weight:
~0.58 lbs (~264 g)
RAM:
12 GB
CPU:
Octa-core Qualcomm SM8475 Snapdragon 8+ Gen 1
GPU:
Adreno 730
Storage
256/512/1000 GB
Battery:
4400 mAh, Li-Po
Camera:
Main:
– Main – 50 MP, f/1.8, 23mm, OIS
– Telephoto – 10 MP, f/2.4, 66mm, 3x optical zoom
– Ultrawide – 12 MP, f/2.2, 12mm, wide angle
Front:
– Inside – 4 MP, f/1.8, 26mm, under display
– Cover – 10 MP, f/2.2, 24mm, cut-out
Release date:
August 2022
Fingerprint sensor:
Yes, side mounted
Comes with an S Pen:
No
Samsung Galaxy Z Fold 4 specs + price and availability.
SGS Fold 4 – All the things you need to know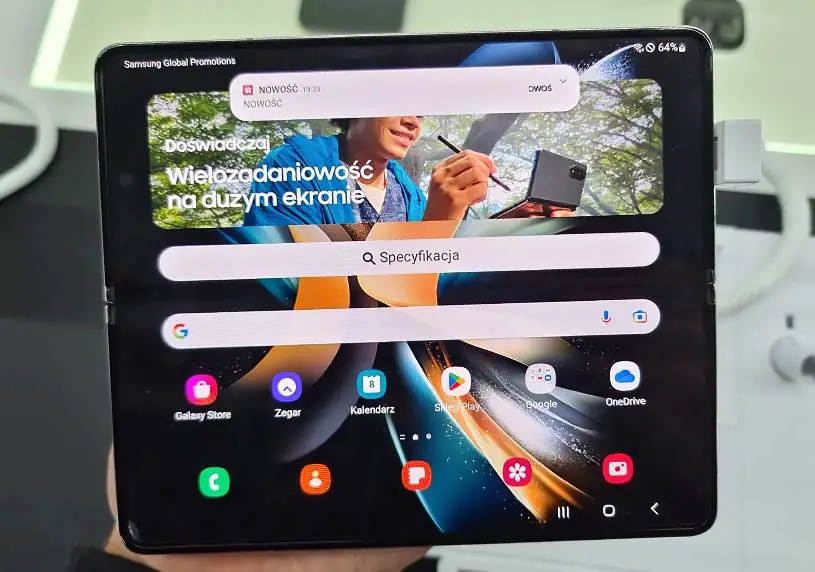 So, what does the Samsung Galaxy Z Fold 4 really has to offer?
The device itself is very capable and it doesn't have any problems with any kind of modern apps, it even runs games such as Genshin Impact at a more than decent framerates (as you can see here). You don't have to expect any slowdowns or hang-ups during everyday use or gaming.
A great novelty here are all the new multitasking features. The split screen mode, paired with the possibility to open your apps in multiple floating windows makes it a real treat for everyone who likes to treat their phone as their pocket PC. A large amount of RAM (12 GB on all models) only contributes to all this.
The Galaxy Z Fold 4 also features not one, but two front cameras for better accessibility. One hidden under the internal display – mostly for video calls, and the second one on the front panel. Needless to say you don't have to rely on these for selfies – on the Fold 4 you can also take the selfies with actual high resolution live preview using the main camera and the unfolded front screen.
The battery is pretty good, but quite understandably it isn't perfect. The 4400 mAh battery which is divided in two main cells, having to supply power to the large internal display and the high performance CPU is simply just enough to get you through the day. You might not face actual problems with excessive battery drain, but keep in mind that the Fold 4 isn't exactly a device to be used for more than one day without charging.
The SOC will generally vary somewhere between 6-8 hours and this is just how it is. This is most likely a tradeoff that has to do with limiting the device's total weight – a larger battery would likely push the weight of the device past 0.66 lbs (300 g).
Another important thing is that the official Samsung charger isn't supplied in the box. The only thing you'll find there is the standard USB-C cable. The full charge cycle should take around 1.5 hours, and slower when charging the device wirelessly. Samsung Galaxy Fold 4 supports wired fast charging up to 25W.
Does the Galaxy Z Fold 4 come with an S Pen? Sadly, no. The good thing is you can still purchase it in the official Samsung's store, however for this price it would be nice to see it inside the box.
Mind that not all S Pens are actually compatible with Samsung's Fold devices. If you're looking for the right one that will work with the Z Fold 4 with no trouble, check out the S Pen Fold Edition, and the S Pen Pro.
Can you remove the built-in factory screen protector from Z Fold 4? Well, it is recommended that you do not remove the default screen protector film, and do not install other adhesive films for additional protection, as doing so may cause device damage. Unapproved screen protectors may also cause the device's sensors to malfunction. This is important to note, as this is an official Samsung statement.
The default screen protector is generally pretty reliable in day to day use, but don't expect it to survive for example a close key scratch encounter. The only downside you may find here is that there is a small gap between the thin protector and the display's edge. This small gap can easily collect dust if you don't clean it from time to time.
Last things last, the fingerprint sensor is located on the right edge of the device, and all in all it's quite responsive as expected of a flagship Samsung device.
If we were to talk about the downsides of the device, the most prominent ones don't really differ from the ones that are troublesome on other Samsung flagship models.
For one, the storage of the Fold 4 is not expandable – there is no microSD card slot here. You also won't find a mini jack output anywhere on the device. Nowadays, for better or worse that's to be expected from Samsung.
Samsung Smart Keyboard Trio 500 Hands-On Review (The Best One Yet?)
The display – Dynamic AMOLED 2X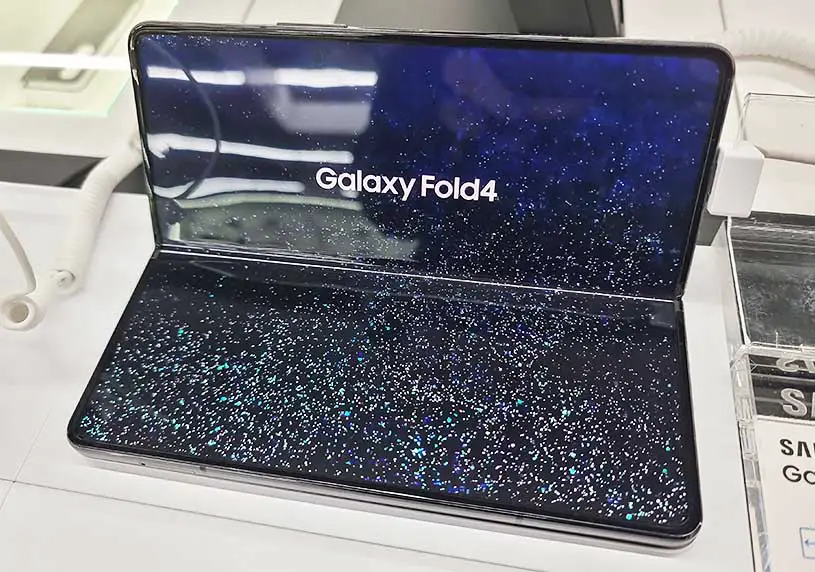 The Samsung Galaxy Z Fold 4 features two amazing quality Dynamic AMOLED 2X touch displays, the "internal" one a 7.6″ 1812×2176 panel with pixel density of around 373 ppi. The front one, 6.2″ 904×2316 panel with 401 ppi. Both displays offer 120 hz adaptive refresh rate, max 1000 nits of brightness and the well-known dynamic Amoled colors. HDR10+ is supported on the device.
The questions that we get asked the most is, you might have guessed it: how many folds can the Fold 4 actually withstand before the hinge will eventually loosen or give out?
Well, the official answer for that is: Samsung has rated the Galaxy Z Fold 4 to be able to withstand 200.000 folds at minimum. To put this into perspective let's just say that if you were to open your phone 80 times a day every day (a score hard to achieve), the hinge should last you for at least around 6.5 years. The current Samsung product support policy gives each of their flagship products "just" up to 5 years of system updates and security patches, so you can see where we're going with that.
The display isn't really that resistant to scratches, but normal use shouldn't really make this a huge problem. Of course, the "interior" display will be less likely to get scratched, as it's naturally protected when you're holding your phone in your pocket or in a bag. Samsung even advice you on their site not to poke the display with your fingernail (!), the Fold 4 is a beautiful, yet delicate beast.
As you might have noticed, the crease in the middle is still visible in the Fold 4, and it still might pose a problem for those of you that feel that you'd get easily distracted by it. With that said, this is still pretty much a standard with foldables nowadays, and there is no saying whether the next generation of Z Fold smartphones will do something about it or not. This is exactly the same on the Flip 4 (albeit the crease is obviously smaller there).
When it comes to your regular media consumption (Netflix, YouTube videos and movies), you have to note that on the Samsung Fold series there will always be some slight problems with video proportions and app scaling.
As both the front display and the fully opened interior display have non-standard aspect ratios, some of the screen space will be wasted with regular wide-screen videos and apps that aren't adapted to these kind of screen resolutions. You can mitigate this issue by fitting your videos to the screen size if your video player app allows that, but this way you'll lose some of the content on the screen edges.
What's really fun here, is that you can actually use your while it's not fully unfolded. The hinge works great and is tight enough for fixing the display in any mid-way position you prefer. And there are many uses for that too! Some of them are for example: watching YouTube videos, easier typing and chatting, video chatting and taking photos.
As we've already mentioned, for taking selfies the Fold 4 offers the nifty Selfie View mode. How this works, is that you're able to see the high resolution photo preview on the cover screen when the phone is unfolded. Neat!
Samsung Galaxy Z Fold 3 vs. Fold 4 – differences?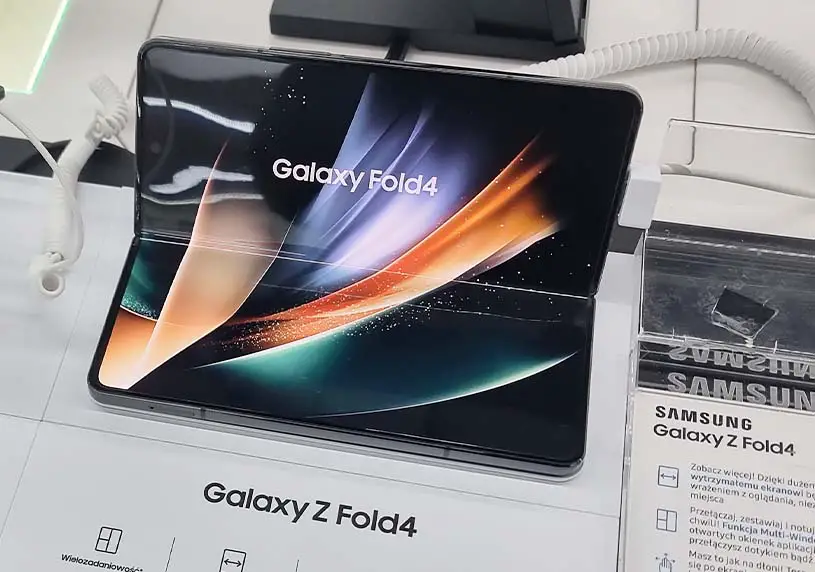 The Fold 4 is visually very similar to the 3, despite the phones having a little bit differing size and proportions. Fold 4 is simply wider and therefore a little bit easier to handle. These few millimeters really do make a large difference in typing precision when using the front display one handed. For some people, this alone makes an upgrade worth it.
If you already own a Fold 3, the biggest selling points of the Fold 4 would be the newer internal hinge mechanism design, a little extra space on the front display and the camera system upgrade.
The angle between the two display surfaces when the smartphone fully closes is actually a little bit bigger on the Fold 4 – with that said, it's a small difference. Once again, the Flip 4 still has the same "issue" and Samsung doesn't seem to prioritize researching the flat fold design as for now.
The new Fold 4 is also supposed to have a completely re-designed hinge mechanism, although you can't really tell that while holding the two models in hand and flipping them open one by one. Samsung ensures that the updated fold will be even more durable than the previous one, which is great news. When it comes to the crease itself, there are no significant differences when it comes to how it looks on both models.
The masking of the second selfie camera (the one on the internal display, hidden under the screen) is also a bit better on the Fold 4. Lastly, both the main cameras and the battery life are better on the newer model.
The summary – and the Samsung Z Flip series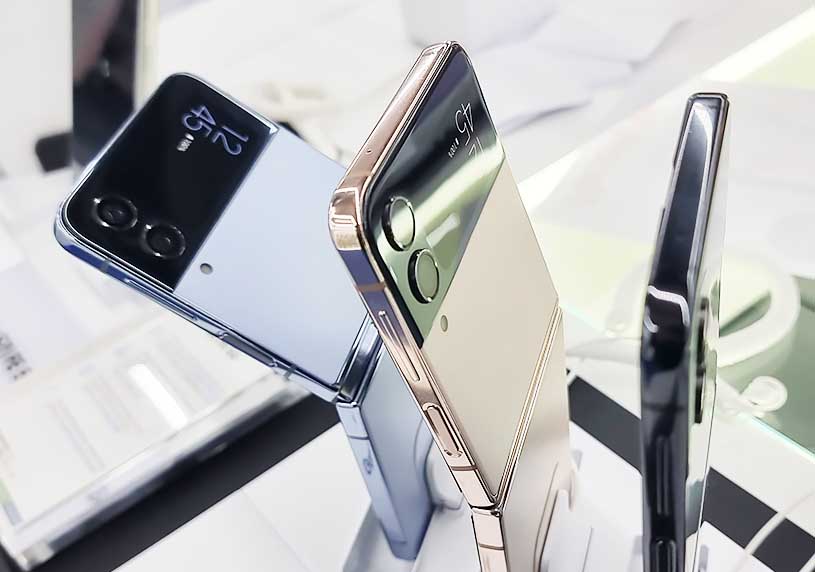 All in all the Samsung Galaxy Z Fold 4 is a great smartphone, that while not exactly cheap, is able to provide you arguably the best foldable phone experience on the market. Add the long-term support plan that Samsung has introduced for their devices and the updated, more durable hinge mechanism and the answer seems a bit easier.
If you're thinking about purchasing a Fold device, the SGS Z Fold 4 is definitely a good choice for you.
While talking about the Samsung foldables, it's impossible not to mention the Samsung Z Flip series, from which the newest model is the Galaxy Z Flip 4. This phone takes a different approach to foldables, making a reference to the classic flip-phones popular in the early 2000s.
While there weren't many hardware improvements made since the release of the previous Flip 3, the phone is still one step ahead in terms of its processing power and updated hinge mechanism (much how it is with the Fold 4). All in all, it's totally worth it if you're just about to get into foldables and you prefer the vertical approach to folding smartphones.
You might also like: Xiaomi Pad 5 Hands-on Review – Is It Worth It?