Today we're testing the Samsung Smart Trio 500 Keyboard, one of the best premium-feel (yet still affordable) wireless Bluetooth keyboards for smartphones and tablets. We thoroughly tested our unit pairing it with our chosen mobile devices, evaluating its build quality, durability and assessing our overall usage experience in this detailed hands-on product review. Let's begin!
[this article features Ebay & Amazon affiliate links]
Samsung Trio 500 Wireless Keyboard – specification & features
Device:
Samsung Trio 500 Wireless Keyboard
Photo:
Price & availability:
Check on Amazon | Check on Ebay
Type:
Wireless
Connectivity:
Bluetooth 5.0
Size:
11.38 x 6.14 x 1.26 in / 28.9 x 15.6 x 3.2 cm
Weight:
1.20 lbs / 0.5 kg
Power source:
2x AAA batteries
Model number:
EJ-B3400UBEGWW
Released:
January 10, 2022
Special features:
– Ability to connect to 3 Bluetooth devices at once and switch between them.
– Android system buttons shortcuts on the keyboard.
– Extra features for Samsung devices (incl. DeX support)
Samsung Trio 500 Smart Keyboard specification and availability.
Features overview + build quality
In the product box you'll find the keyboard alongside with some basic documentation. There are no additional accessories present, besides the 2 AAA batteries needed to power the device, which should be included in the set by default.
Samsung Trio 500 features a full plastic chassis, and there are no metal elements to be found here. This is mostly a good thing, as it allows for the keyboard to be at least a little bit lighter.
The chassis itself is designed in such a way, so that while laying flat it's positioned at a slight angle for easier access. It also features 4 small rubber feet that will prevent the keyboard from moving when you're typing.
The power slider is positioned on the left side of the keyboard and it has a neat color indicator label on it which is green when the keyboard is on and red when it's turned off. The second indicator on the device is the LED indicator which blinks when you're turning on the keyboard, and during the Bluetooth device pairing process.
Top buttons on the device feature the standard F1-F12 keys functionality plus additional functions both for generic Android devices (screen brightness settings, system buttons etc.) and functions exclusive to Samsung devices (customizable app shortcuts, DeX mode button).
The keys on the Trio 500 are quality chiclet style membrane keys with little indentations in the middle, with low travel and really nice quiet sound. You won't have problems taking notes during a lecture, or in any other scenario when you don't want do draw attention while using this keyboard.
Easy Bluetooth device switching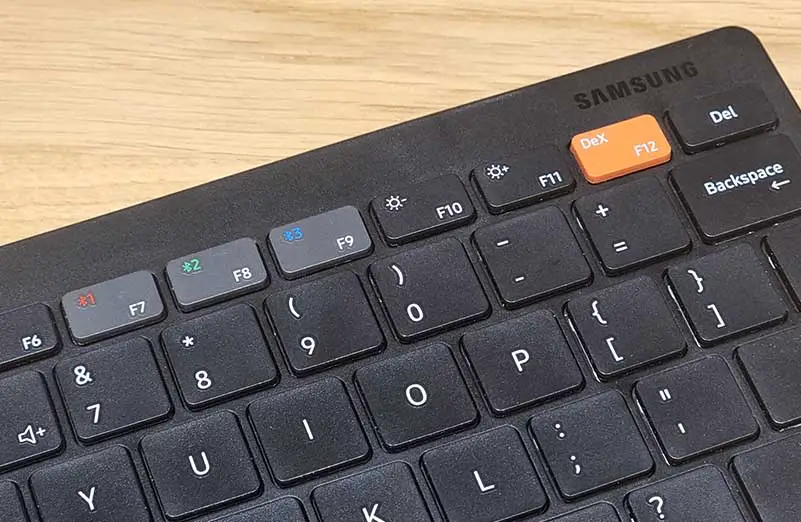 What kind of devices can you use the Trio 500 with? This keyboard can be easily paired with up to 3 devices such as Android & iOS tablets, smartphones and laptops supporting wireless Bluetooth keyboards. We tested our unit with the Samsung Galaxy S21 Ultra and the Xiaomi Pad 5.
Once all your devices are paired, you can freely switch between them using the F7, F8 and F9 keys on top of the keyboard. The switching itself is pretty fast, and the connection stays reliable even with 3 different devices connected.
Now, let's talk about these orange buttons (or blue ones on the white variant) you might have already noticed along the way.
Samsung specific features + DeX capabilities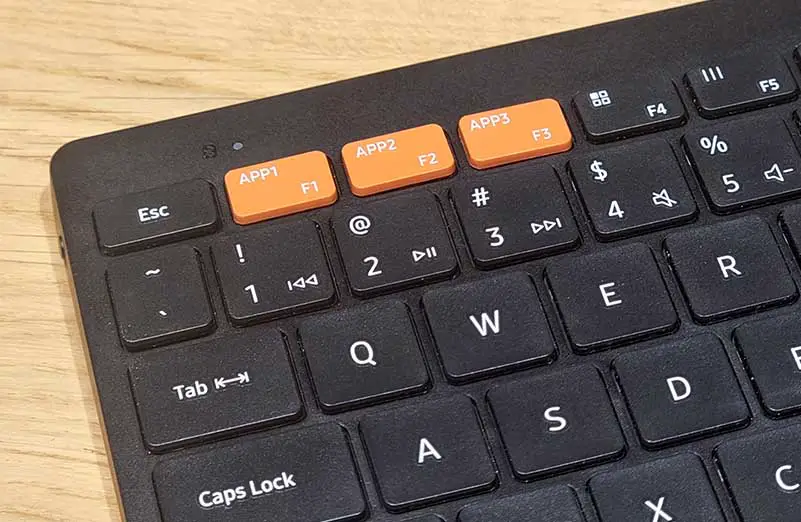 Samsung Trio 500 is designed to be used with Samsung devices, although it also works with plenty of other brands of smartphones, tablets and computers supporting wireless Bluetooth keyboards. When it comes to Samsung devices though, the Trio 500 has a few additional functions to offer.
The first thing that you'll notice when looking at the device for the first time, will probably be the bright orange buttons among the function keys on the top of the keyboard. These are dedicated to the Samsung-specific features we're talking about.
First, there are 3 app shortcut keys that you can customize and assign to open apps of your choice on your Samsung devices, these are located on the top left of the keyboard.
Next comes the DeX button which enables you to go into and exit out of the Samsung DeX mode – a mode with desktop-like use interface and features (more on DeX here on the official Samsung US website).
The support for Samsung DeX which we tested on our Samsung Galaxy S21 Ultra was on-point and there was not complicated configuration required to get the keyboard going with the DeX environment.
Of course, the audio controls, display brightness shortcuts and so on, will in most cases also work to some extent on different brands of mobile devices. This however is not guaranteed with the default plug-and-play setup.
Remember that the Samsung Trio 500 keyboard, while made with Samsung devices, can still be used with any other device capable of supporting Bluetooth keyboard input, just without the access to its Samsung-specific features. More on that later.
Replaceable batteries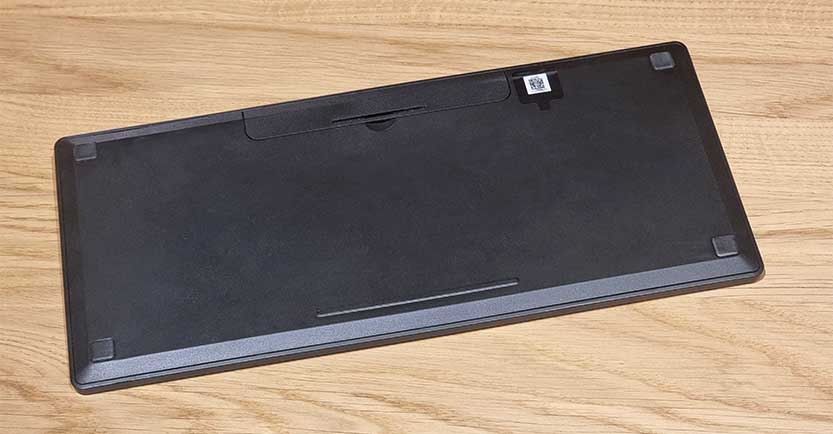 The Samsung Trio 500 is powered by 2 standard AAA batteries which should come bundled with the keyboard by default.
This is really good news, as with devices with in-built batteries you can be at a disadvantage when the internal battery eventually wears down after a certain amount of cycles. In case of devices with replaceable batteries, you can simply swap them out.
The overall experience and the portable factor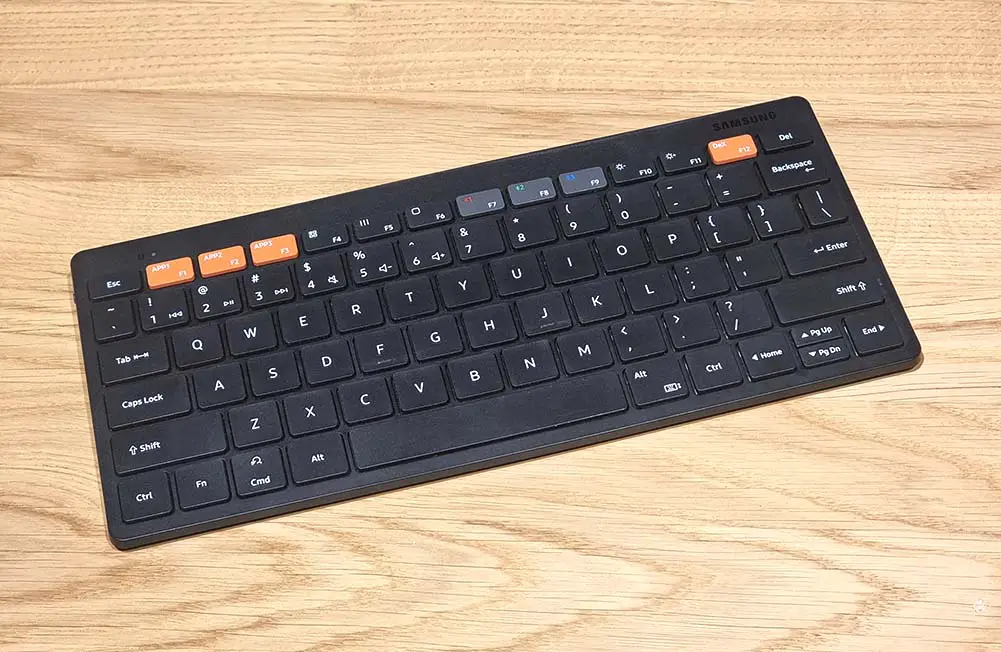 After a few days of extensive use, we can safely say that the Trio 500 was definitely worth getting, in our case for around $50. The keys feel great, they have a really low profile and low travel, and they feature small indentations in the middle that make them really pleasant to use overall. Quick typing isn't an issue at all while using this device, and getting used to it in a few minutes isn't troublesome at all despite its small size.
The only thing that has to be noted here is that this keyboard has the function lock enabled by default. This means that with the default configuration you won't initially have easy access to keyboard shortcuts such as alt+F4, or alt+tab. To fix this and freely enable or disable the Fn lock on the Samsung Trio 500, you have to press the Fn key together with the Caps Lock key – this will act as a Fn lock toggle.
In terms of the weight and durability of the Trio 500, it's kind of on the heavier side. The keyboard weighs around 1.19 lbs / 0.5 kg, but it doesn't really feel that heavy in comparison to other wireless keyboards we tested (including the ALLIFE wireless keyboard).
Tossing this keyboard into your backpack or your bag without cover shouldn't be a problem if you don't put any sharp objects next to it. It's slim, durable despite its plastic casing, and very much portable.
In fact, this very review was written solely using the Samsung Trio 500 Smart Keyboard paired with the the Xiaomi Pad 5 tablet. Including the formatting process and all the final edits.
Samsung Trio 500 with Xiaomi devices?
Is the Samsung Trio 500 compatible with Xiaomi devices? Well, we've already tested our unit with the Xiaomi Pad 5 to prove that these are indeed compatible, although quite obviously it was missing access to all its Samsung-related features such as the DeX mode shortcut and app shortcut keys.
Check out our hands-on review of the latest high-end Xiaomi tablet here: Xiaomi Pad 5 Hands-on Review – Is It Worth It?
The other Android system function shortcuts were a bit hit and miss (the brightness adjustment was a bit finicky and the app drawer button didn't work at all), but still, we didn't experience any trouble with either device switching or the keyboard randomly losing signal.
Is the Samsung Trio 500 worth getting?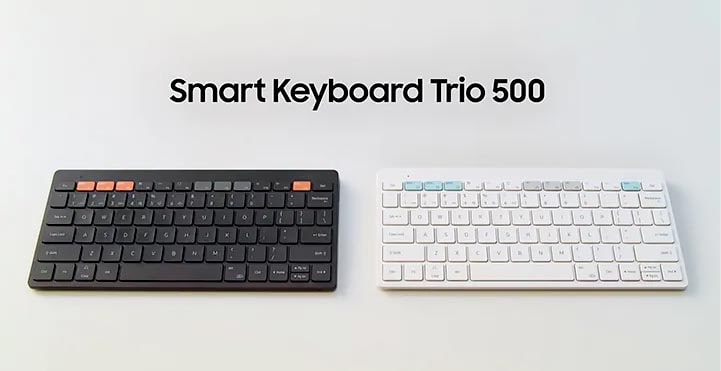 After our tests we came to a conclusion that the Samsung Trio 500 is one of the best portable wireless Bluetooth keyboards we had tested up to this point. It's small, the keys feel great and are reasonably silent, it can be used with almost any BT 5.0 compatible device and it still has more to offer when you pair it with a Samsung device. Its ability to run off replaceable AAA battery power is a huge plus too.
Creative writing during travel, doing lecture notes or blogging, you'll be able to do this and more using the Trio 500. If you're searching for an efficient, durable and long-term solution for all your portable writing needs, look no further. The Samsung Trio 500 has potential to be the perfect device for you.