After a few days of using the Xiaomi Pad 5, now comes the time for our honest opinion about this quite interesting high-performance tablet. We'll cover all the things important in practical use such as screen quality, battery life, the MIUI 13 experience and much more, omitting the benchmark scores you can find just about everywhere by now and won't tell you much about the actual experience with the device. Let's begin!
[this article features Ebay & Amazon affiliate links]
Xiaomi Pad 5 on paper – the specification
| Device: | Xiaomi Pad 5 |
| --- | --- |
| Photo: | |
| Price: | Check on Amazon | Check on Ebay |
| Weight: | ~512 g |
| Display: | IPS LCD | 11″ | 1600x 2560 px (WQHD+) | 275 ppi | 120Hz |
| Max brightness: | ~500 nits |
| CPU: | Qualcomm Snapdragon 860 |
| Main camera: | 13 MP | f/2.0 |
| Front camera: | 8 MP | f/2.0 |
| Speakers: | Quad speaker array with Dolby Atmos support |
| Storage options: | 128 GB / 256 GB (UFS 3.1) |
| RAM: | 6 GB (LPDDR4X) |
| Battery: | 8720 mAh (Li-Po) |
| Connections: | Bluetooth 5.0, Wi-Fi 802.11 a/b/g/n/ac, USB type C |
Xiaomi Pad 5 specification + price and availability.
What do you get? – The unboxing experience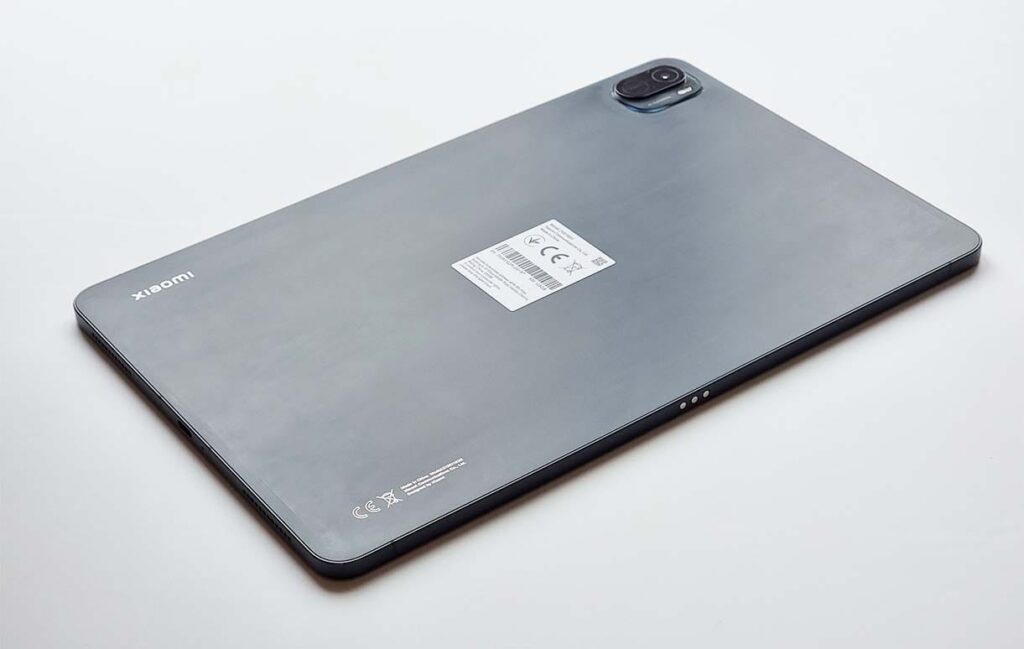 In the box, you can find a classic white 33W USB type C charger with a separable cable, capable of fast charging your device in less than 2 hours. Besides that, the only other thing present in the box is the Xiaomi Pad 5 itself. No screen protectors, no additional accessories.
The tablet itself is quite sleek with rounded edges and matte back finish. It feels sturdy, isn't bulky or heavy and even without a case feels great to hold onto.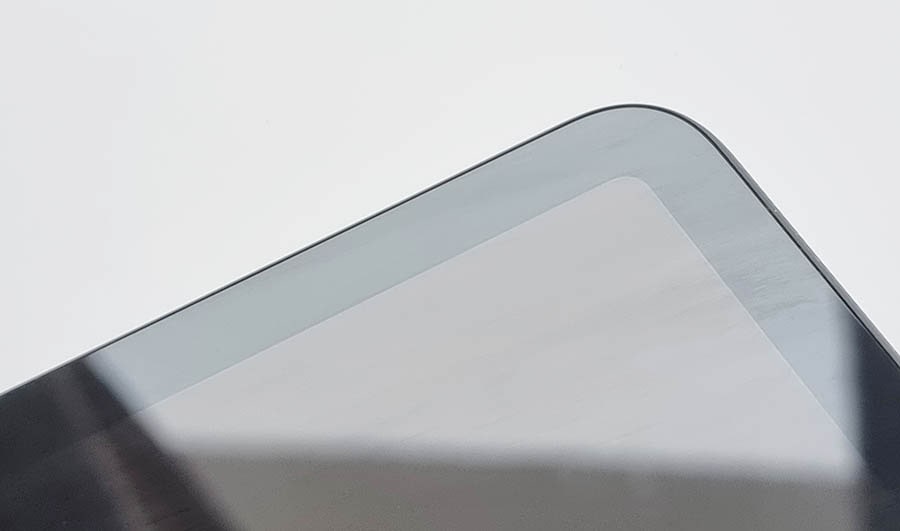 As all brand new mobile devices, yours should come with the battery charged up to around 50%, and so did ours. The initial setup was, needless to say, identical to the traditional Android device setup experience with connecting to a WiFi network, logging into your Google account and so on.
Good news is that most of the pre-installed apps could be easily removed – and that's a great plus. After taking a look at the initial choice of the apps installed by default though, it would be safe to say that this device came fully bloatware-free. Among these apps we could find the Google Wallet app, Netflix, dedicated Xiaomi screen recorder, a QR code scanner and the likes.
First things first – the display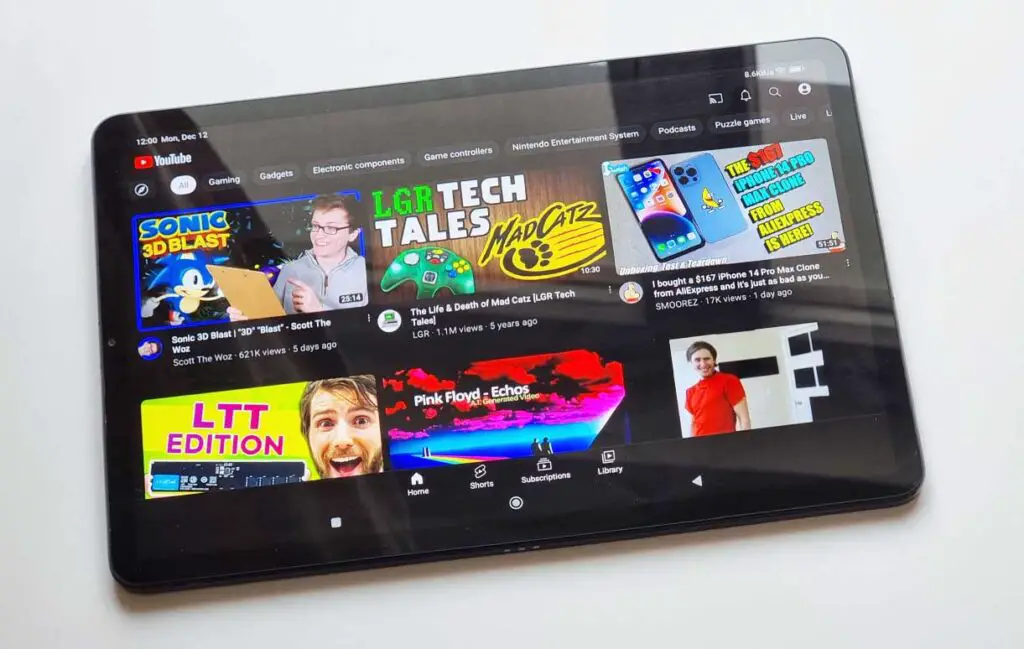 The screen on the Xiaomi Pad 5 is of excellent quality, even when compared to some pricier OLED devices. When it comes to technicalities, it is a 11-inch 120 hz LCD panel with 1600×2560 pixels resolution, 16:10 aspect ratio and around 274 ppi density. In direct experience, it all translates to excellent picture quality and media viewing experience that's honestly impressive for a device in this price range. You won't be disappointed here!
When it comes to the screen brightness, the Xiaomi Pad 5 was measured to support a max screen brightness of around 500 nits – which is not that much on paper, but enough for all practical uses. In comparison the flagship Samsung tablet, the Samsung Galaxy Tab S8 is also rated for around 500 nits in peak brightness while being a lot more pricey than the Xiaomi Pad 5.
It's also important to note, that when using the auto-brightness feature here, the final brightness range will be somewhat limited until you switch back to the manual brightness settings.
If you'd like to use your Xiaomi Pad 5 outdoors, you will be fine as long as you're not exposed to direct sunlight. The screen brightness alongside with the highly reflective display surface are not able to provide a bearable experience in a very bright environment.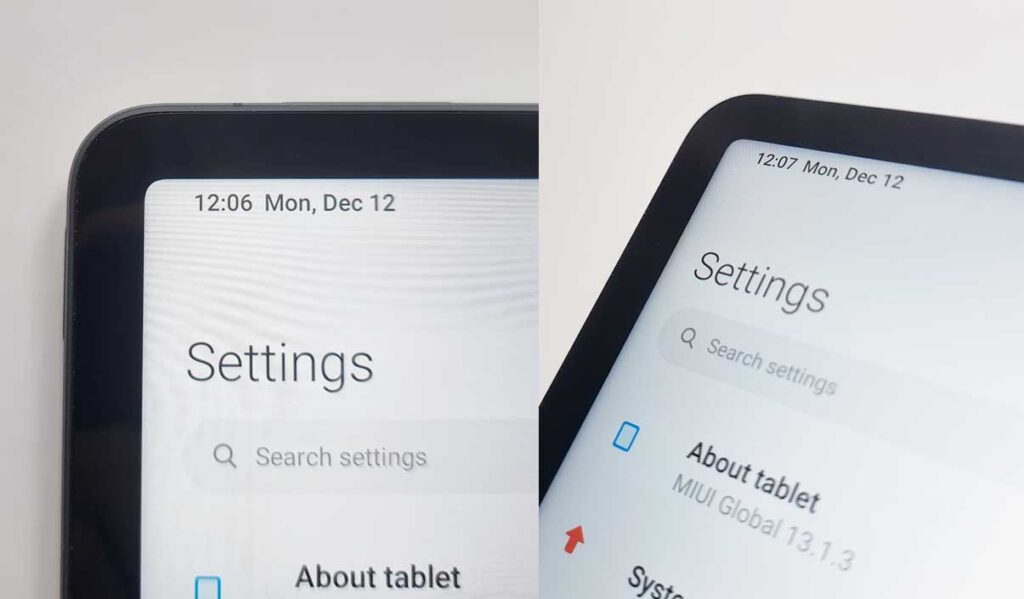 One "problem" that can be immediately noticed by usual OLED / AMOLED / RETINA display users, is that the panel on the Xiaomi Pad 5 is a backlit IPS LCD display that will naturally have ever so slightly dimly lit edges. This is a typical "issue" with LCD tablet screen backlight, but keep in mind that it can be seen on lower brightness settings, at certain angles, and in most cases you will have to look twice to actually notice it during normal use.
The black color is unsurprisingly not pitch-black as on OLED screens, but it's handled really well overall.
When it comes to the viewing angles, these are generally really good, although once again, the screen loses a portion of its brightness when you look at it for example from a "reading a magazine laying flat on the table" perspective. Again, nothing to write home about and quite a normal phenomenon, but it's there.
The display is able to support the 120hz refresh rate, which is the real eye-candy here. Everyone who has used a 120hz device before knows what we're talking about, if you don't, try it out in your local store on a compatible device, it's really worth it!
Anyway, the smoothness of operation is on a really high level here. So much so, that it's getting apparent why the Xiaomi Pad 5 is often being compared to the Apple iPad series. More on that in the next point about the device's performance and responsiveness.
To add to all this, Xiaomi also offers quite a lot of system settings allowing you to tweak the display colors by choosing one of a few pre-defined presets. We found the "Vivid" mode to be the best one – although on most devices "vivid" modes are oversaturated and look kind of unnatural, here this mode was presented as the default one and capable of automatically adjusting the display settings to the content on the screen.
In general the color representation on the Xiaomi Pad 5 is great for a media tablet in this price category. Still, we wouldn't recommend attempting to use it for professional photo or video editing.
Responsiveness, performance and user experience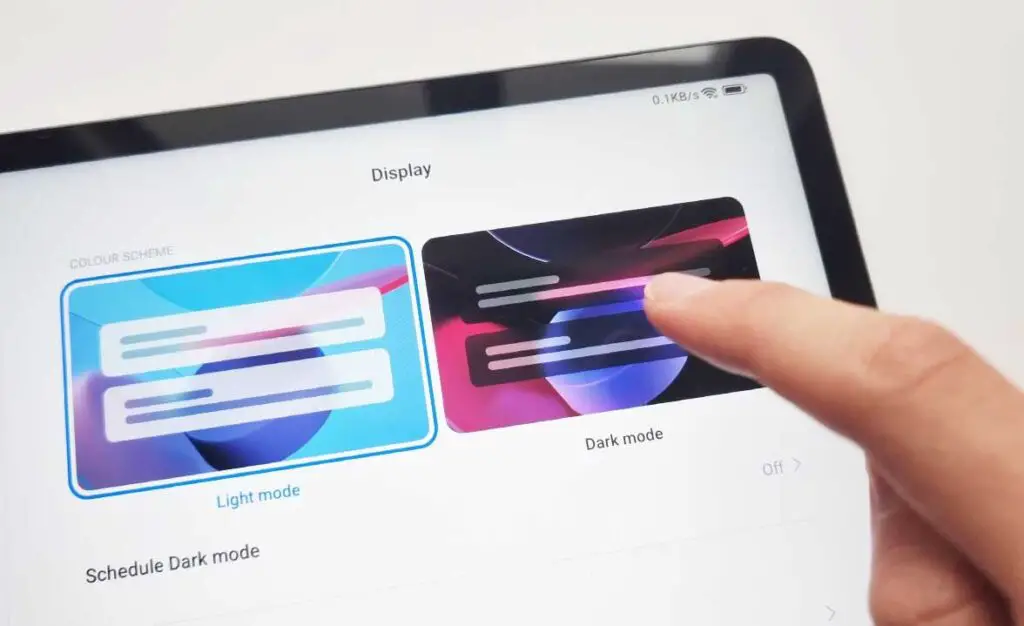 In terms of general responsiveness of the Xiaomi Pad 5 interface, out of the box it's superb. No sugarcoating here. While as on many cheaper Android devices you might experience some minor hiccups and hang-ups from time to time, here there were almost nonexistent.
The 120hz display, alongside with the octa-core Qualcomm Snapdragon 860 processor are a perfect match, and paired with the 8720 mAh battery they don't cause excessive battery drain overtime during normal use. This was also a pleasant surprise.
Our experience with Xiaomi Tab 5 was flawless in terms of performance, despite quite frankly somewhat lowered initial expectations. In fact, this whole article (excluding editing and inserting the images) was written on our tested Xiaomi Pad 5 with a Samsung Trio 500 wireless Bluetooth keyboard connected to it – without any unpleasant performance related incidents.
Keep in mind that all Android devices can and will slow down overtime as caused by accumulating unused data, apps and services. There are a few things you can do to prevent that, including restarting your phone from time to time, cleaning app caches and so on.
MIUI 13 interface and its highs and lows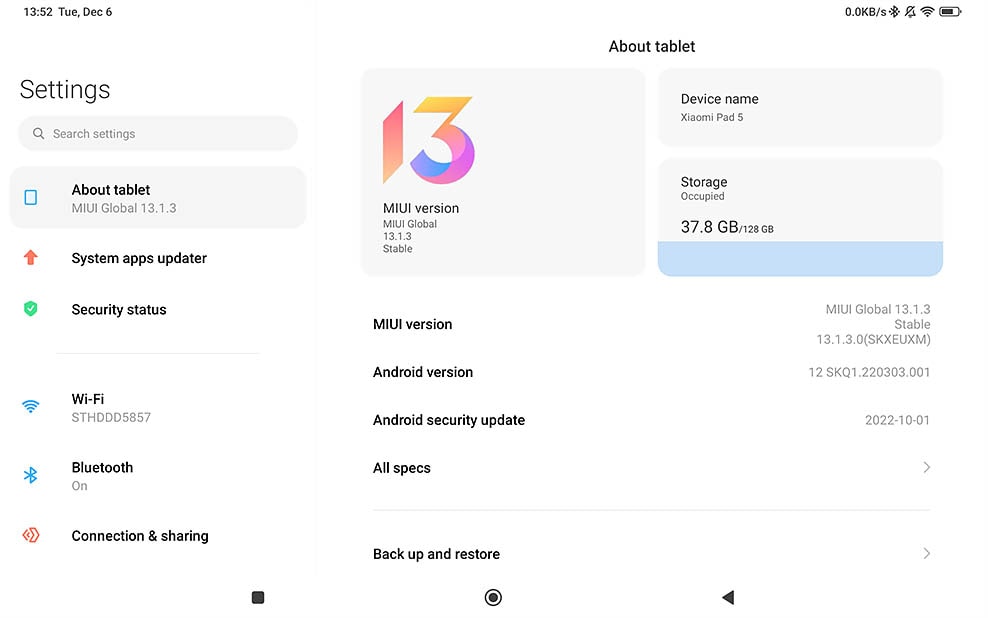 While our device came out of the box with MIUI 12, the update to MIUI 13 alongside with all the remaining security patches was available from the settings menu right away.
After finishing the update process which took about a few minutes we were greeted with the MIUI 13 (13.1.3 in our case – to be exact) interface – the latest version of MIUI, which only slightly differs in terms of looks from its previous installations.
Although there are no issues when it comes to the smoothness of operation on the Xiaomi Pad 5 with the newest version of MIUI 13 installed, there are some places where the MIUI interface options lack. One of these would be no ability to sort apps in the app drawer by installation date, the other one – no possibility to adjust the intensity of the blue light filter (here called "reading mode"). More about the MIUI 13 interface itself (on the Xiaomi Pad 5) here.
In general we were positively surprised with the overall performance of MIUI 13 and its optimization. The smoothness of operation and responsiveness of the device both in the system environment and 3rd party apps way exceeded our expectations.
Check out our detailed review of the MIUI 13 interface to learn more about its performance and most important features: MIUI 13 Interface Detailed Review (Butter Smooth?)
Quad stereo speakers on board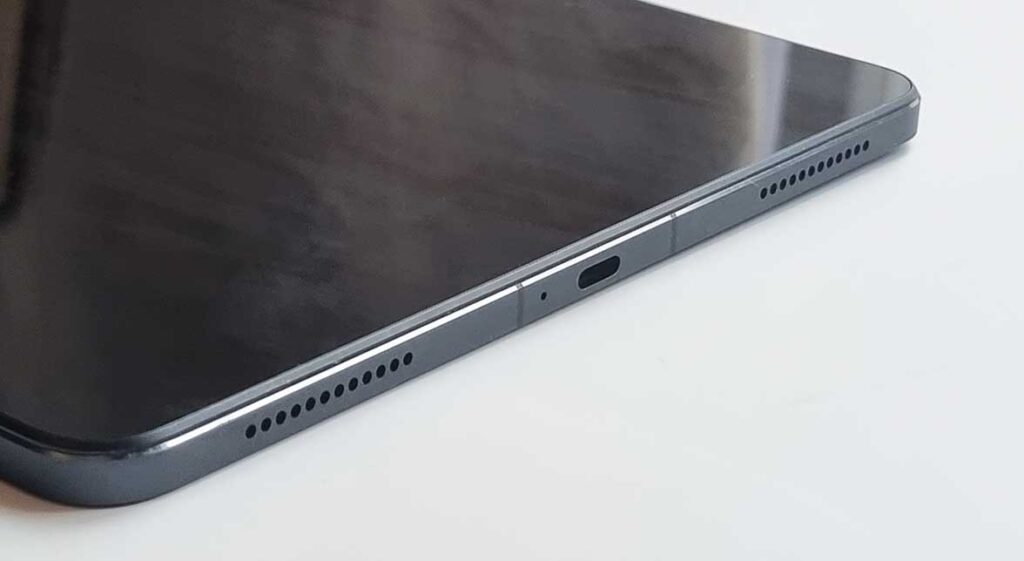 Xiaomi Pad 5 features 4 speakers in a stereo array that believe it or not, are able to convey stereo sound somewhat accurately provided you're facing the tablet at a right angle. There isn't really nothing to write about when it comes to sound quality here, as the speakers are just good both for watching or streaming movies and for casual music listening.
When compared to cheaper Samsung tablets, in our opinion the Xiaomi Pad 5 offers a much more pleasant media viewing experience, especially if you like to enjoy a movie or a YouTube video holding your tablet directly in front of you (for example while laying in bed) – this way you'll get the best of the quad speaker setup present on the device.
In terms of the perceived loudness, the speakers are just around average – able to get very quiet on the lowest setting and able to provide background music for a few people on the highest. No miracles there.
Device storage – data hoarders at a disadvantage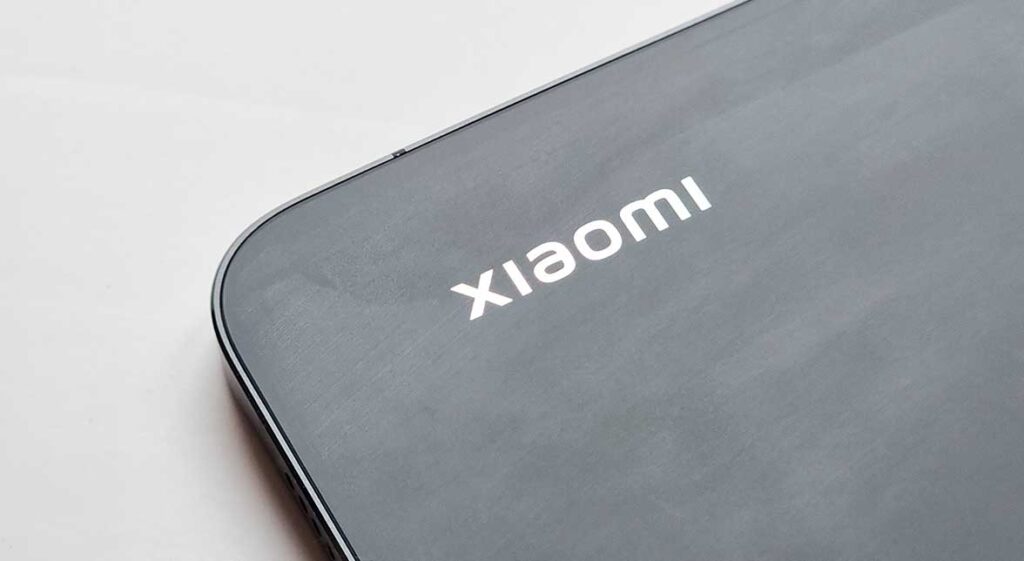 Xiaomi Pad 5 comes with just two internal storage capacities – 128 GB and 256 GB. The latter is not available in all countries though.
A huge bummer is that with all the goodness that the device offers, its storage is not expandable – you won't find a microSD card slot anywhere on the Xiaomi Pad 5. The only option, if you want more storage space would be to resort to using free or paid cloud storage services such as Google Drive, Dropbox, or MEGA.
In practice though, if you're a casual user, this amount of on-board memory will be just enough. Even if you were to install a bunch of larger Android games on the device, you would still be left with quite a large amount of free space (keep in mind that most "large" Android games can take up to around 1-2 GB of storage).
Xiaomi kind of redeems itself here, offering us a neat built-in memory cleaner utility that is surprisingly on-point and works really well enabling you to clear app caches, detect unused .apk files and much more.
Privacy & device security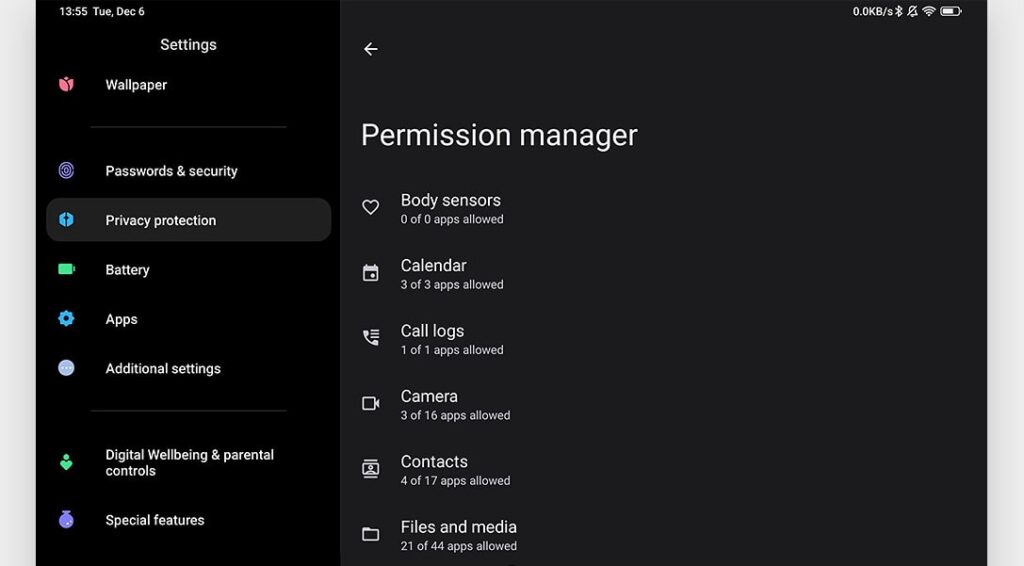 All the privacy and app permission settings are available from the default settings menu. MIUI 13 is well transparent with all the things your apps can and cannot access and you have full control over that from the "Privacy Protection" tab. No issues here.
When it comes to the device locking, the Xiaomi Pad 5 lacks a fingerprint scanner – most probably a cost saving measure.
Instead of unlocking your device using your fingerprints, you can either unlock your device using a 4-digit pin, an unlock pattern, or a password of your choice. Other than that, you also get access to a simple 2D face unlock feature which works just fine most of the time but as we found out won't work that well in dimly lit rooms, and an option to unlock your tablet anytime when a familiar Bluetooth device is connected to it.
The camera(s)
Xiaomi Pad 5 has 1 main camera in the back, and 1 selfie cam in the front. As this device is a tablet, the expectations here should generally be low. The main 13 MP camera still an another pleasant surprise, as it provides relatively good picture quality with a nice image resolution. The image processing is on-point too. Perfect for quick snapshots for online messaging, even better for scanning some documents on the go.
The front 8 MP camera works great for online video calls and there are also no issues here. One thing we could be picky about is the placement of the camera on the shorter edge of the device.
The battery life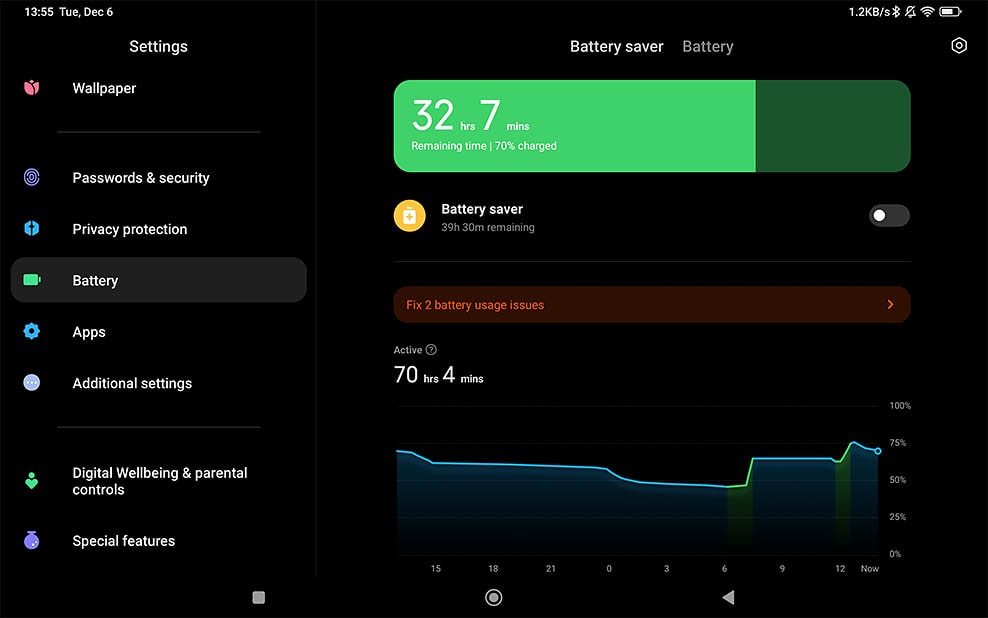 On the XIaomi Pad 5 you can find a quite large 8720 mAh lithium-polymer battery. The full charge of the tablet takes about 2 hours, and with a fast 33W charger the whole battery can be charged faster, even in around 1.5 hours.
In perfect conditions, the Xiaomi Pad 5 can reach up to 10 hours of screen time, and during our extensive tests involving browsing the internet, watching movies and testing some 3rd party apps, all in the 120 hz mode with around 1/3 screen brightness we found the battery drain to be quite satisfactory.
Even under moderately heavy use the Xiaomi Pad 5 has the potential to be charged every other day. Keep in mind that if you're gaming on your device the battery can be expected to drain faster.
Pros & Cons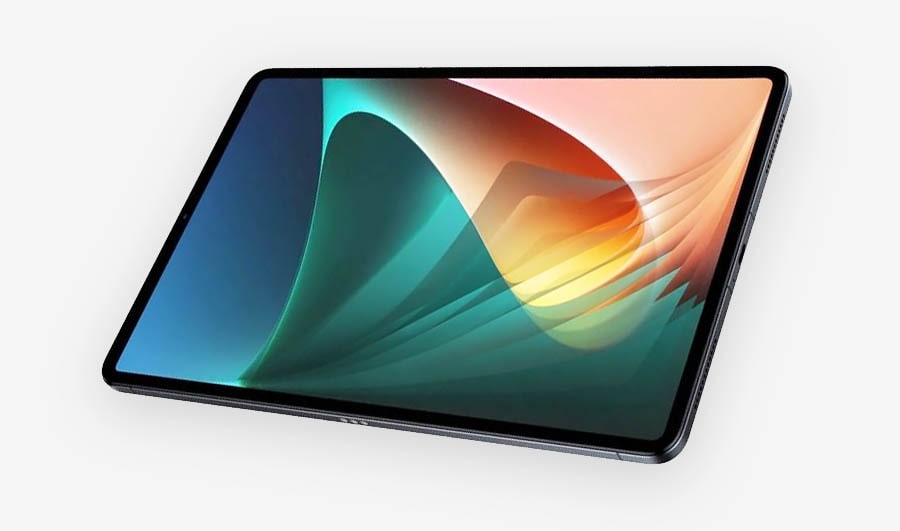 As a nice summary after our tests let's quickly go over all the pros and cons of the Xiaomi Pad 5.
Pros:
Great performance, no hang-ups or stutters during our tests.
Quality high resolution IPS LCD display with 120 hz refresh rate.
Good battery life even when in the 120 hz mode.
A surprisingly decent main camera (for a tablet).
Sleek design and a lot of protective cases available.
Quad stereo speakers supporting Dolby Atmos.
One of the best devices in this price range.
Cons:
A fingerprint magnet – best used in a case.
LCD edge dimming is noticeable under certain conditions.
A highly reflective screen pretty hard if not downright impossible to use in direct sunlight.
No expandable storage, no microSD card slot on the device.
The official accessories (the Xiaomi Pen and the dedicated keyboard) are pretty pricey compared to the relatively low tablet price.
Xiaomi Pad 5 – Is it worth getting?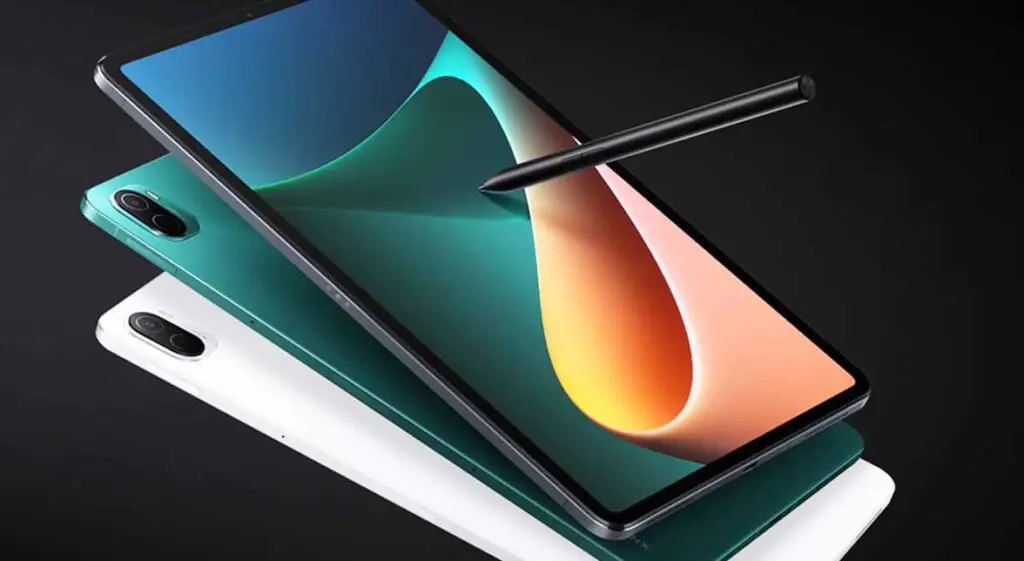 Our verdict is clear – definitely! The Xiaomi Pad 5 is a great piece of tech for a great price. Compared to tablets offered by Samsung in the similar price range, it offers much more hardware-wise, and as we had a chance to see – performance wise.
It's a tablet great for work, as a media consumption device, and it will even suit all the people who enjoy gaming on their Android hardware (or retro console emulation – for that see this video by ETA Prime).
Get your Xiaomi Pad 5 now and you won't be disappointed! In this price range, this device definitely won us over.
If you're still unsure, we'll just say that this whole review was written and edited on our Xiaomi Pad 5 testing unit. With no performance issues at all!
| Xiaomi Pad 5: | LVSHANG Case: |
| --- | --- |
| | |
Xiaomi Pad 5 on Ebay:
Dux Ducis Protective Case on Ebay:
Best protective case for the Xiaomi Pad 5?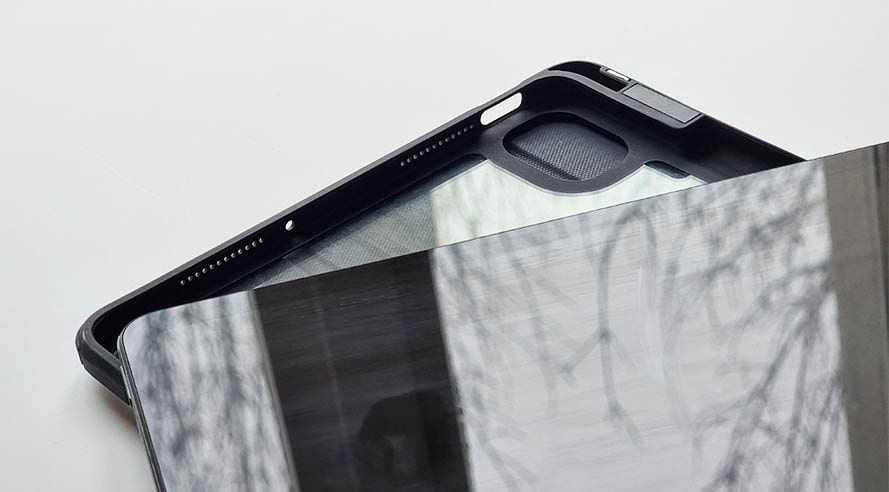 There are lots and lots of propositions when it comes to cases that are able to secure your Xiaomi Pad 5 and double as a tablet stand when folded out.
In general we do not recommend only slightly cheaper TPA cases with flexible backs. While there are many of these that are worthwhile, many people dislike them for their texture, often loose fit on the device or the tendency to accumulate heat. A case with hardened plastic back is in our opinion almost always a better choice.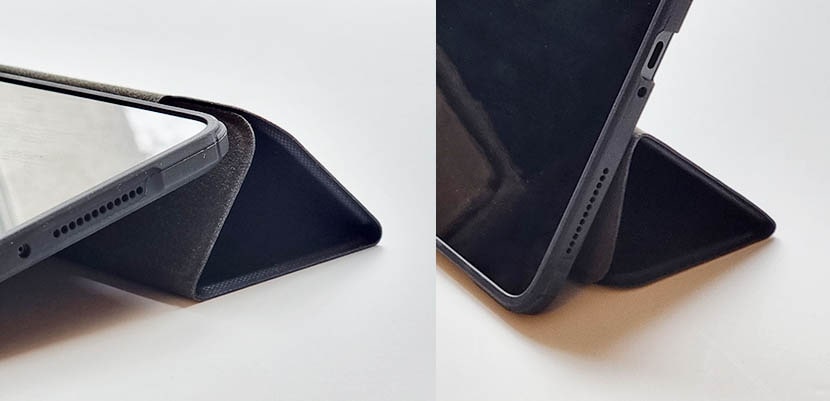 Our choice – and the case we used in the second part of our tests is the Dux Ducis Protective Case (Ebay), which apart from the magnetic fold-out stand feature, has a tablet pen compartment, magnetic lock mechanism, rugged case edges and rigid hard back for maximum protection. Check it out here on Ebay if you're interested!
The alternative to the Dux Ducis Domo case that is very similar in terms of functionality and available over on Amazon is the LVSHANG Protective Case – get it here.
Check out also: Meta Quest 2 vs. Pico 4 – Which One Should You Choose?