Which GPU is worth buying in 2023? If you're planning to either upgrade your existing PC, or are aiming for a new gaming setup in the current year, you deserve to know what the best options on the market are for the given moment. Here we're about to show you the very best GPUs on the market capable not only of smooth 4k gameplay, but also flawless GPU-heavy software user experience.
I'm Tom from techtactician.com and I'm pleased to walk you through the very best GPUs on the market right now! Read on to learn more!
Check out also: 7 Benefits Of Upgrading Your GPU This Year – Is It Worth It?
[this article features Ebay & Amazon affiliate links]
Is 2023 Actually a Good Time To Buy a New GPU?
As prices of GPUs have already fallen severely after the initial global chip shortage crisis beginning back in early 2021, and simultaneously one of the most efficient GPU models on the market have been released quite recently, this year is one of the best ones to purchase a new graphics card for your setup!
If you're still not yet sure if upgrading your GPU is the right decision to make, check out our take on that topic here: 7 Benefits Of Upgrading Your GPU This Year – Is It Worth It?
The sheer number of both high-end and budget GPU models that have already hit the market in 2023 make this year one of the best moments to pick one for yourself. It's even more worth it if you plan to experiment with some AI software locally on your PC, as we do here at techtactician!
Before you do that though, here are a few extra things you should know!
2 Fans vs. 3 Fans on GPUs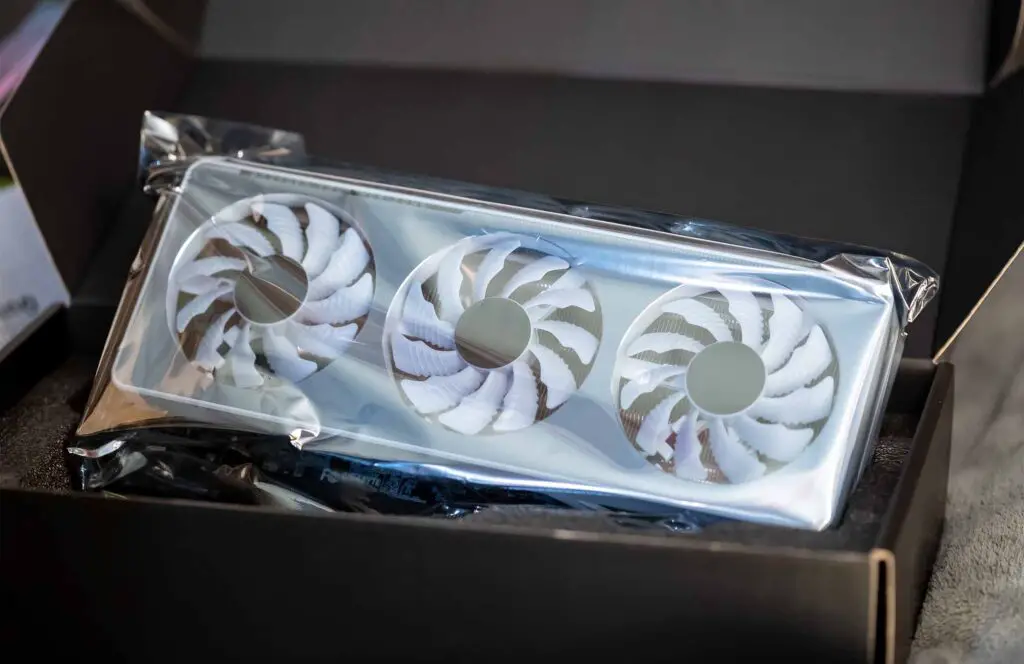 One of the questions we get the most is: what is the actual difference between the smaller GPUs with two fans, and the larger ones with 3 fans total?
The answer is, quite unsurprisingly: the size which matters when it comes to choosing a PC case, and overall cooling capabilities, the first being much more important at times. And here is exactly what you need to know about this.
With larger cards with 3 fans and larger heatsinks you can often experience better thermal performance that with smaller cards with the same internal graphic processing unit.
The third fan usually either works in conjunction with the first two ones at all times, or kicks in only when the card reaches a certain temperature threshold to minimize unwanted noise. As a rule of thumb the bigger the cooling surface is, the better the thermal performance should be. This however, is not always the case.
Also, mind that the larger cards may not fit in some of the smaller micro-ATX/ITX PC cases. Make sure you have clearance in your case and on your motherboard before making an upgrade or buying a brand new card for your new setup!
Smaller high-end GPUs with "just" 2 fans are in most cases designed out of the box in such a way that little to no thermal throttling should be going on during standard use. With that said however, they can also have less space to dissipate the heat onto because of the smaller heatsinks, so their thermal performance can be at times a bit worse when compared to their 3-fan counterparts.
Generally, most of the 2 fan GPUs will fit in all the most popular case sizes, unless you have a custom mini case in mind for your setup. When checking the GPU size to fit it to your chosen PC case, keep in mind both the length and the height of the graphics card in question!
NVIDIA or AMD? – A Common Question
Both NVIDIA and AMD have their fans who would go to great lengths to stand behind their favorite GPU manufacturer. The truth however is, that both of these companies and their graphics cards have their small set of slight advantages and disadvantages when compared directly with each other. Here is the long story short:
NVIDIA cards in general have better raytracing capabilities, far exceeding what the AMD cards can do in that aspect for this moment in time. They also make use of the DLSS 3 AI-based image resolution scaling multiplier technology for in-game performance boost, which is also superior to the AMD's counterpart in many places.
NVIDIA cards also tend to be much better for AI-related purposes such as model training and inference when it comes to local AI image generation. This can be great news for all of you who enjoy experimenting for example with locally hosted Stable Diffusion.
High-end AMD cards while also almost equally capable when it comes to benchmark-based gaming performance, tend to be way more budget-friendly than what NVIDIA has to offer. This has been the case with the AMD CPUs for years, and it's exactly the same with their graphics cards. All this, believe it or not, all this without many compromises in general performance!
Overall, the AMD graphics cards also had a tendency to get many vital driver updates and core bug-fixes quite a bit of time after their initial release, whilst NVIDIA tends to give you the whole quality package right away (at least that's been the case with many of their leading models last few years). This is of course by no means a problem – with all the high-end cards we list here all of the most popular game and software will work flawlessly right off the bat!
Now that you know all this, let's get straight to the list!
1. NVIDIA GeForce RTX 4090
The NVIDIA GeForce RTX 4090 is definitely the best GPU money can buy you in the current year. If only you have the money, you will be able to enjoy smooth and flawless gaming experience, even in 8k!
Ray tracing, DLSS 3 tensor cores capabilities, a large amount of VRAM, and astonishingly high max GPU clock speed – all this packed in this top-notch piece of tech. Did we mention that it's also 8k ready? The RTX 4090 won't let you down neither during gaming, nor when editing videos or working on complex 3D models in software such as Blender or 3ds Max. On my main rig it works flawlessly in all of these cases!
Moreover, with 24 GB of VRAM, this graphics card is also highly capable of working with modern AI applications and training AI models if you're into that! Overall, this is the best of the best in the current line up of latest GPU models! If you don't want any compromises, you can stop reading right here!
2. AMD Radeon RX 7900 XTX
The second best on my list is the AMD Radeon RX 7900 XTX. This direct rival of the RTX 4090 is the best option you can get if you want to go the AMD route and save some money without compromising performance!
This one is a great bang for buck if you want to go for the best of the best. In the benchmark-based gaming performance comparison it doesn't fall far from the NVIDIA's 4090, while maintaining a lower price point. 24 GB of blazing fast VRAM and high max clock speed make this card a perfect choice for a high-end setup!
If you don't mind going the AMD route and you need the absolute best performance in games and GPU-heavy software, this is the one card you should definitely look into first!
3. NVIDIA GeForce RTX 4080
Right next comes the NVIDIA GeForce RTX 4080 with the benchmark rating not much below the 4090, and a bit of a lower price. Still a great deal performance-wise!
16 GB of GDDR6X VRAM, 4th Generation Tensor Cores and 3rd Generation Ray Tracing Cores in a GPU only one step behind the 4090 which we use as my quality baseline here. Definitely a great card to look into, especially if you can find one for much cheaper than a brand new 4090!
My experience when jumping from the 4080 to the 4090 on the test setup is a small performance gain on higher resolutions and refresh rates, however the extra VRAM on the 4090 really helps with AI model training which I do engage in from time to time. Overall, the perceivable performance when gaming in 1080p in 120hz is negligible when experienced in person. Choose the one with a better price!
4. AMD Radeon RX 7900 XT
The AMD Radeon RX 7900 XT is a somewhat cut down version of the RX 7900 XTX, with a slightly lower max boost GPU clock speed, based on the same architecture, yet less power-hungry.
If you want to cut down on the price a bit more compared to the RX 7900 XTX listed above, you can go for the XT version instead. Both benchmark-wise and compared in real life the performance of these two is largely similar. It still features 20 GB of super fast GDDR6 VRAM and can handle all the AAA games and GPU-heavy apps you throw at it!
Keep in mind though, if you're not afraid to invest a little bit more, the Radeon RX 7900 XTX listed above might be a better choice in the long run!
5. NVIDIA GeForce RTX 4070 / Ti
Both NVIDIA GeForce RTX 4070 and its slightly more powerful Ti version are great choices that are still capable of smooth 4k gaming while also being cheaper than the most expensive NVIDIA cards available right now on the market.
While both these cards fall just a little bit further behind in the benchmark comparison, they still make the top 10 most efficient GPUs that your money can get you this year. For both hardcore video editing and high resolution gaming this card will be more than enough!
12 GB of fast VRAM, full DLSS 3 support and max clock speed comparable to the top 3 makes this card a great deal both when bought new and used. Definitely look into this one when considering a top-notch GPU without reaching for the most expensive models!
6. NVIDIA GeForce RTX 3090 Ti
Still in the top 10, still amazingly efficient. The NVIDIA GeForce RTX 3090 Ti is a GPU from the previous 3rd generation which still holds its value when it comes to sheer computing performance.
24 GB of VRAM, 4k and 8k support (!), and benchmark scores comparable to the top NVIDIA GPUs from the latest 4th generation. This one, although released back in 2022 is still a solid choice if you need performance but don't want to reach for the higher priced top 5.
In terms of performance you won't be disappointed with neither the base 3090 and it's slightly more powerful Ti version. You can catch an even better deal if you decide to get a used 3090 in good condition, as according to my research in online marketplaces such as Ebay.com a lot of these cards are currently being sold by people upgrading to the 4th generation of NVIDIA graphics cards. Dig used 3090s on Ebay and see how low the prices can get!
7. AMD Radeon RX 6950 XT
As we're reaching the end of the list, we come across the AMD Radeon RX 6950 XT. This little beast with 16 GB of VRAM still holds up pretty well even when compared directly to the RX 7900 XT!
This neat GPU also released less than one year ago still does have everything you need for high resolution gaming and working with GPU-heavy software and applications. For less than $400 you can enjoy AAA titles without worrying for frame drops and stutters. While the RX 6950 XT is not the most recent AMD GPU, it does its job exceptionally well even when it comes to 4k!
This is great news for all of you who want to save up a bit on your upcoming GPU purchase! If you do, check out also the 6700 XT which we're going to talk about in a short while!
8. NVIDIA GeForce RTX 3080 Ti
Finally, we've got the NVIDIA GeForce RTX 3080 Ti to close off our list! This card from the 3rd generation of NVIDIA's RTX GPUs keeps up nicely with the group with its prices steadily falling since the first release of the 4th gen.
With 12 GB of GDDR6X VRAM, 8k support and a reasonable power drain this GPU is still worth looking at even though quite a bit of time has passed since its release. Despite many improvements that the 4th gen brought along, you won't be disappointed getting the 3080 Ti for your gaming setup this year!
As always, you can also look at some used GPU deals when it comes to previous-gen graphics cards like this one! Finding a right one can make your purchase even more budget-friendly!
Bonus: Best Budget GPU!
When we're talking about lower priced GPU models, the RX 6700 XT is an absolute bang for buck when it comes to more affordable GPUs for a budget setup. It's still extremely efficient, can handle many AAA titles even at 1440p, and best of all – you can get it for just under $350!
This card has been mentioned many times over as a great option for those with a lower starting budget, and my prognosis is that it will hold this title for quite some time from now. Check it out and thank us later!
Our Verdict: Best Performing Graphics Card In 2023!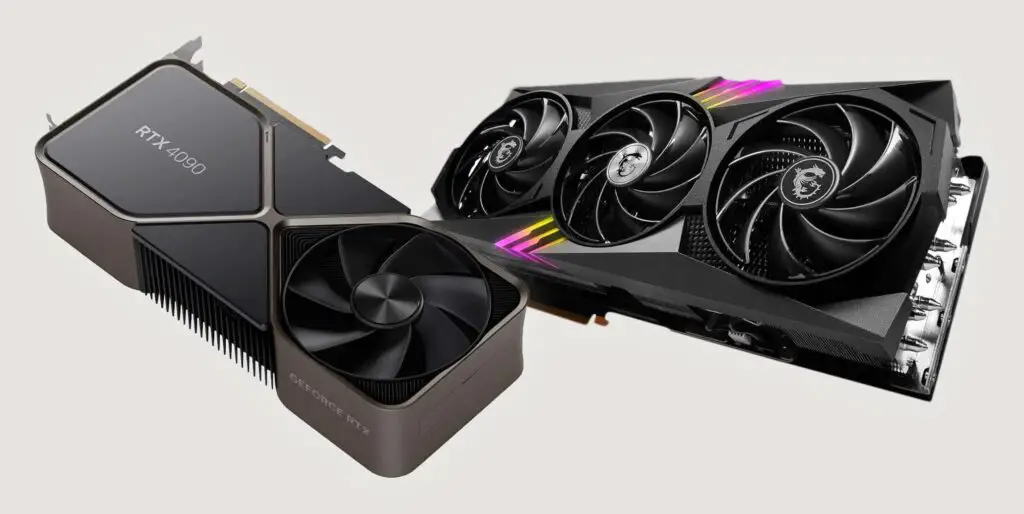 In the very end, while all of these cards are more than enough for any avid gamer, video editor or 3D graphic designer, the NVIDIA GeForce RTX 4090 is my goto choice when it comes to top GPU models, being the most popular graphics card this year, and for all the right reasons! While the price may be steep for some (and by some I mean, probably many), both the benchmark-measured performance and the in-person gaming experience on this GPU are off the charts!
For 4k gaming with high display refresh rates, rendering complex 3d models and 8k video and training and fine-tuning AI models locally this graphics card is definitely the best choice right now! Just watch how well it can perform in Blender!
If you'd like to save some money, and you're planning to use your GPU mostly for gaming, all of the GPUs on this very list are capable of handling hi-res, high refresh rate gameplay without any hiccups. With that said however, nothing beats or matches the RTX 4090 in terms of sheer performance when it comes to consumer-grade GPUs, at least for now!
Don't know any fun things to use your GPU for besides gaming? Check out some of our AI-related tutorials such as: How To Use Okada Live Voice Changer Client RVC With Discord – Quick Guide It's really worth getting into!