Can you expand the base storage space on the Meta Quest 2 in any way? With the limited amount of space that the Quest 2 offers, the possibility of fitting all your large files on the built-in memory chip is certainly limited. While considering the fact that it is a standalone device, it's all the more important for users to have more internal storage space on hand.
Can you further extend your Quest 2 VR headset memory and gain more local disk space for your media files? Are there any non-standard solutions available if you're aiming to accumulate more data on your new VR device? Let's take a closer look.
[this article features Ebay & Amazon affiliate links]
Check out also: Meta Quest 2 vs. Pico 4 – Which One Should You Choose?
How much memory does the Meta Quest 2 have?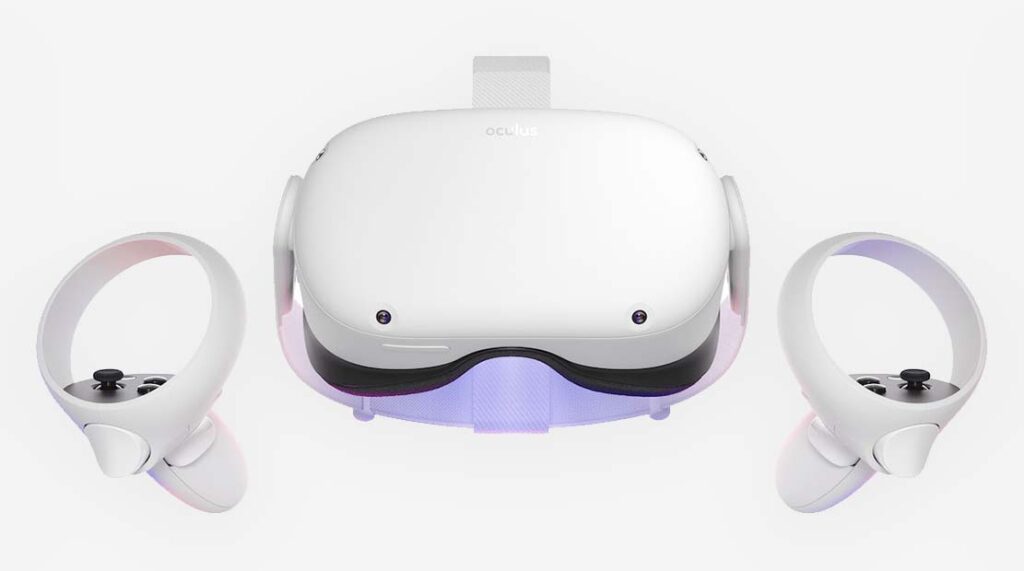 The Meta Quest 2 currently comes in two variants: 128 GB and 256 GB, the first being the most popular of the two.
The price difference between the two models is always around $100.
This is somewhat different from the first generation of Quest headsets, as the Oculus Quest 1, the predecessor of the Quest 2 also came in a smaller 64 GB version all throughout its market life.
Larger internal memory size options will allow you to install more games and apps and hold a larger amount of standalone games and software locally on the headset, without any compromises.
Does The Meta Quest 2 virtual reality headset offer expandable storage?
The Meta Quest 2 doesn't offer any way of expanding the in-built local storage and it doesn't feature a microSD card slot. This means that the storage on the Quest 2 is not expandable with any 3rd party memory cards.
So, can the Oculus Quest 2 memory be upgraded or expanded in any other way? Well, currently there are no reliable ways to add more internal memory to the Quest 2, and given the device's internal design any kind of storage mods are not likely to come about.
Unfortunately, the Quest 2 hardware is not as easily accessible and tinkering-friendly as for example the Steam Deck's hardware is. The data on Meta Quest headsets is held on an in-built memory chip soldered to the device's main board, and this means that eventual storage upgrade mods would be hard if not downright impossible.
Can you use external USB sticks or USB drives with your Quest 2?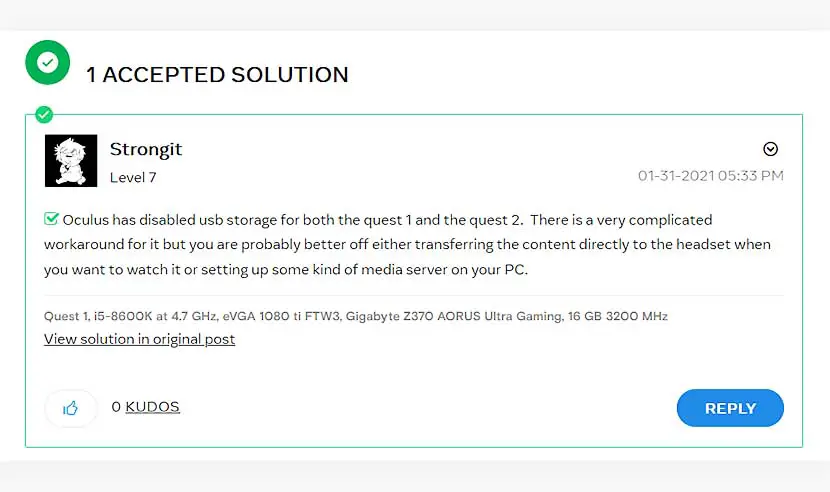 The official answer confirmed by the Meta VR forum experts is: the USB storage access is by default disabled not only for the Quest 2, but also for the original Oculus Quest 1.
As reported in some places, there are potential fixes and workarounds available for that, but these can get rather complicated and therefore beyond the scope of this article. These fixes may involve either sideloading some 3rd party apps onto your Quest 2 (such as the ES File Explorer).
Your best alternatives for expanding the Quest 2 memory using external storage are:
Finding a way around the disabled USB storage access on the device (after doing some research on the topic online).
Setting up a local or remote file server and finding a way to access it from the headset.
Utilizing cloud file storage services that you can access from the Quest 2 (still no official answer whether or not this is possible – see the Meta Quest forums thread here).
Making use of streaming services instead of relying on the internal storage for accessing larger media files such as movies (Netflix, Prime Video VR etc.)
Do you really need more disk space on your Quest 2?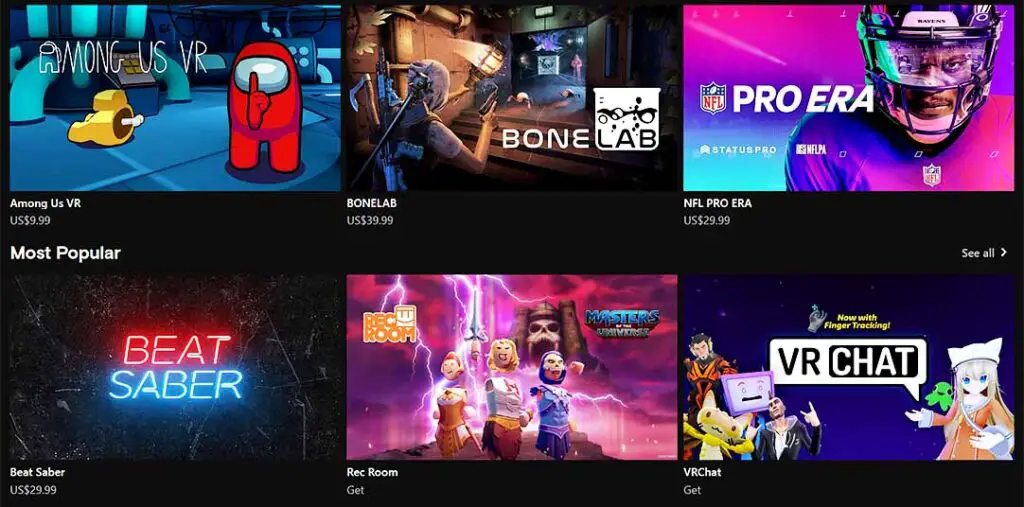 Let's take a look at this from the practical perspective. Most Meta Quest 2 games are somewhere between 1 to 3 GB in size, much like typical higher-end games made for Android mobile devices. This means that even on the 128 GB Quest 2 model, you'll be able to fit quite a few of these before you run out of space.
Remember though, that some more advanced games (like for example quite the recently released The Walking Dead: Saints & Sinners or Bonelab) can take even up to 8-12 GB of disk space on your device.
Here are some examples of how much disk storage space do some of the most popular Meta Quest 2 game titles take up:
Among Us VR

– 387 MB

Bonelab

– 7.1 GB

Beat Saber

– 1.5 GB

NFL PRO ERA

– 2.5 GB

Rec Room

– 1.7 GB

VRChat

– 1.0 GB (plus space for additional map downloads)
(All the data above is sourced directly from the official Oculus experience store).
When it comes to the apps and other types of software available for the Quest 2 that is not directly gaming related, the storage requirements will often be much lower.
Other times when you might need more storage space are for example when you want to store a larger amount of media files such as HD movies directly on your Quest 2. This however is not that much of a common practice.
Meta Quest 2 alternatives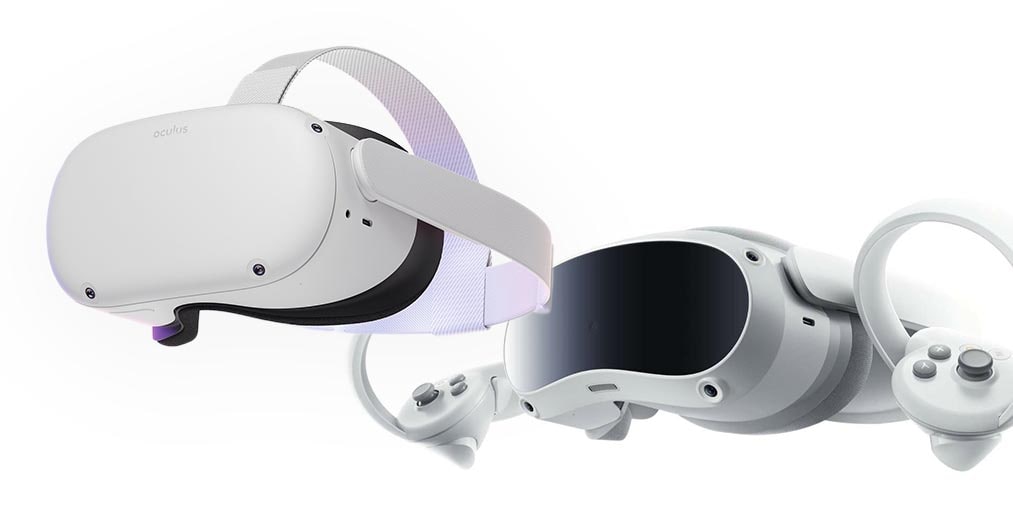 If you're concerned about the lack of storage upgrade possibilities on the Quest 2, you might also be disappointed in the fact that currently there aren't any standalone VR headsets offering expandable storage or microSD expansion slots available on the market.
If regardless of that you'd like to know more about standalone virtual reality goggles that are popular right now (and about the main rival of the Meta Quest 2), we have a great resource for you. Check out this detailed and straight-to-the point comparison of the Quest 2 and the new Pico 4 – truly a battle of giants!
The only other "alternatives" to the Meta Quest 2 would be the plethora of PCVR-only, non-standalone headsets, however these won't do if you're aiming for the true wireless VR experience.
Check out the comparison here: Meta Quest 2 vs. Pico 4 – Which One Should You Choose?