This is a quite detailed, down-to-earth and hands-on review of the MIUI 13 interface based on our direct experience with our tested Xiaomi devices, and recently, the brand new Xiaomi Pad 5. In this article, We'll go over all the most important upsides and shortcomings of the new MIUI 13 update to see if the upgrade from MIUI 12 is really worth it! Let's begin!
[this article features Ebay & Amazon affiliate links]
MIUI 13 – the looks & overview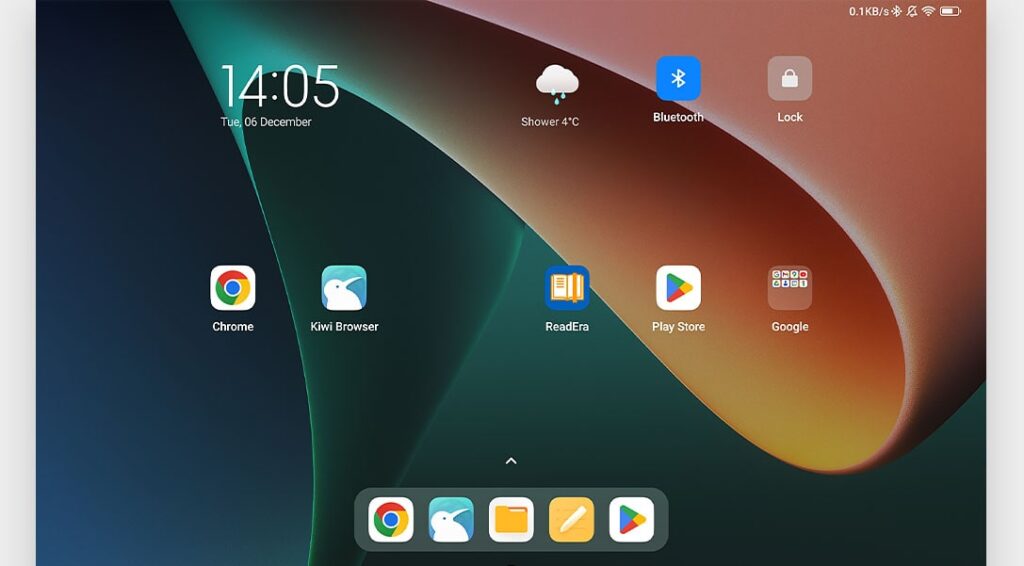 MIUI 13 operating system is based on Android 12, developed by Xiaomi and released back in 2021. It's the 14th iteration of the MIUI OS. In terms of looks, for some it might be kind of similar to the iOS interface.
In the MIUI interface however, you can make use of all the Android-based features, and you have the choice to either use the "classic" Android interface with the app tray, or the more Apple-esque version without it.
Of course, because the MIUI 13 is Android-based, you have access to all the Android apps, customization options and all that jazz.
Among the devices that already make use of MIUI 13 you can find the Xiaomi Pad 5, POCO X3 Pro and other popular hardware from Xiaomi, Redmi, POCO & Oppo product lines.
Hardware compatibility and supported Android versions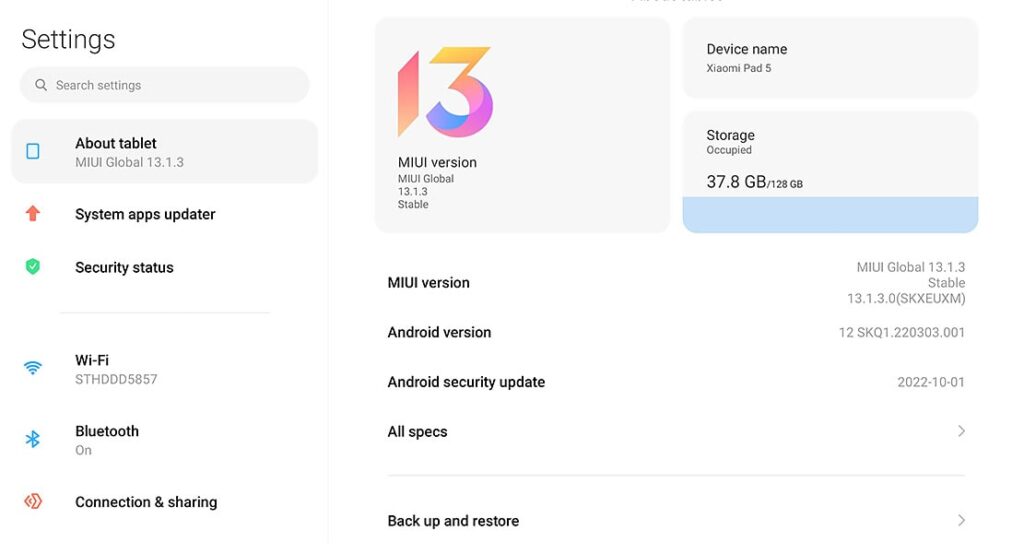 MIUI 13 is able to support compatible devices using Android 12 and Android 13. It does not support any Android devices before Android 10 though. A device must be officially eligible for the MIUI 13 upgrade for it to be available in the software update settings menu.
Which devices will get the update to the MIUI 13? Some of the older phones and tablets have already received the update, some of them did not and will not be compatible with MIUI 13 in the future. Check your system settings menu and the software update tab to see if your device has got the update available. If not, there is still a chance. You need to consult one of the official lists of MIUI 13 supported hardware to see if it'll be coming to your device anytime soon.
Check out this article from NextPit for a complete list of MIUI 13 supported devices: MIUI 13 review – NextPit
Is MIUI 13 already stable?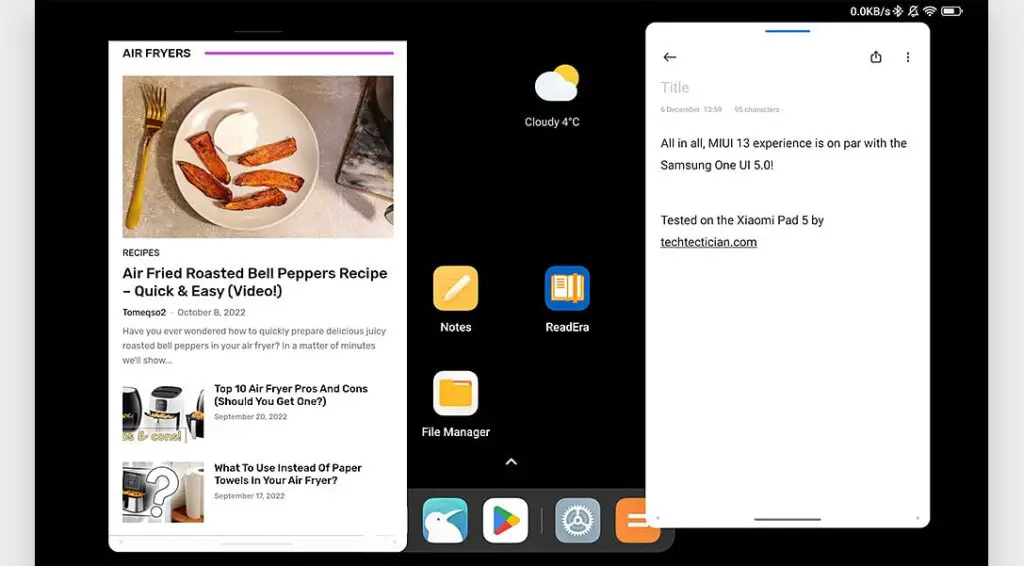 While MIUI 13 is already distributed to all the compatible devices in official stable releases, we found that it still does have some minor bugs and shortcomings.
Temporary problems with discarding notifications, resizing widgets, occasional, albeit extremely rare hang-ups and missing features are always a part of the development process, and it's the same with MIUI 13.
Although MIUI 13 does have some minor bugs, it's a good and reliable interface overall. In our opinion, when used on a compatible and capable device, it can even stand up to more popular Android system overlays such as the all-popular Samsung One UI 5.0.
If you're wondering whether or not it's beneficial for you to update to MIUI 13 on your device, we strongly advice you to simply do a quick Google search including in the query your device's name and "MIUI 13". Then, search for the user testimonies on the interface operation after the update.
The interface – smooth enough?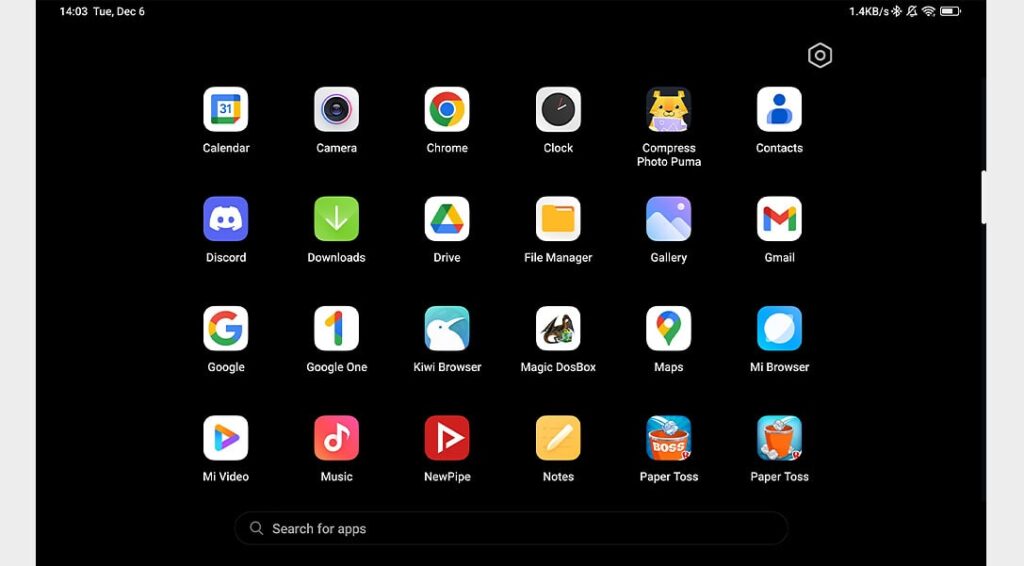 Fancy yet tasteful animations in the MIUI 13 interface are present everywhere and are easily noticeable all the way from unlocking your device to uninstalling an app.
Here are techtactician.com we've tested the MIUI 13 interface using the brand new factory reset and updated Xiaomi Pad 5 in the 120 hz refresh rate mode. This way we had the best possible experience when it comes to the built-in system animations and operation smoothness.
We didn't experience any visible stutter or hang ups, and all the occasional rare slow downs were of the same prevalence as on our Samsung One UI 5.0 compatible devices we tested.
In our case, the operation was buttery smooth even with 3rd party apps, but keep in mind that on lower-end devices you might experience some natural slow downs as a result of worse hardware performance.
Can you turn off all the interface animations in the MIUI 13 interface? Well, yes. This is done in the standard Android way, by accessing the developer settings menu and turning off animations system-wide.
Functionality – and where it's lacking
Let's skip the things that are great about the MIUI 13 interface (because there are lots of these), and get straight to the places that it may be lacking and somewhat disappoint you.
First things first, as it was the case in the past, so it remains today – not all the widgets available in the Chinese version of the MIUI 13 are accessible from the Global one.
Moreover, the sizing of the widgets often gets messed up, and for instance the weather & clock widget which looks like a standard 4×1 widget, actually behaves like a 4×2 one preventing app shortcuts to be placed underneath it. This of course can be fixed in the future updates.
In other places, for example the app drawer, some features such as sorting your apps by the installation date are missing. You also can't drag the apps in the app drawer to arrange them as you please – their order always stays alphabetical, unless you divide them into custom app categories.
The other thing would be the lack of support for the floating window mode for some popular apps. Then, the neat quick shortcuts sidebar option that was added in MIUI 13 is only available on phones and missing from tablets.

Another thing we noticed, is that if you prefer the traditional on-screen button system control instead of using gestures to move around the Android OS, you cannot set the buttons to be permanently transparent, and you're left with a black bar on the bottom of your display, taking away quite a bit of your screen space. The buttons will still get transparent, although only in certain apps.
The last thing that would be quite nice to add would be the ability to set the intensity of the built-in system blue light filter (on Xiaomi devices known as the "reading mode"). You can of course do that using certain 3rd party apps.
These all in all minor shortcomings aren't really a deal breaker and don't affect the final user experience that much, but are important to know about nonetheless.
Privacy & user protection settings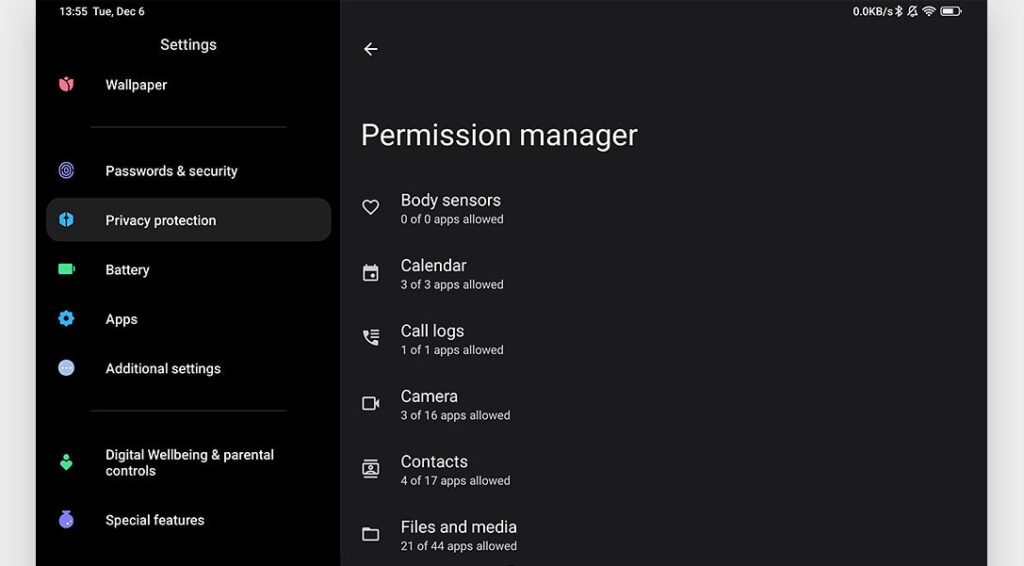 MIUI 13 offers a nice privacy settings menu. On the screenshot above, you can see the pretty neat app permissions editor inside the settings menu, which enables you to allow or deny app access to crucial hardware and software resources. It's really nice to see all this in one place.
When it comes to protecting your device, MIUI 13 is able to support basic PIN, unlock pattern and password combinations, face unlock, fingerprint scanners (if compatible hardware is available) and unlocking your device using a trusted Bluetooth device. Nothing more and nothing less than the market standard here.
An important thing for some of you might be this: you don't have to set up a Xiaomi account or be logged into one when using MIUI 13 (if you're not using a phone number with your device, your Mi account won't be automatically created). All our tests were carried out on devices that weren't logged into Mi accounts.
Battery drain – and utilities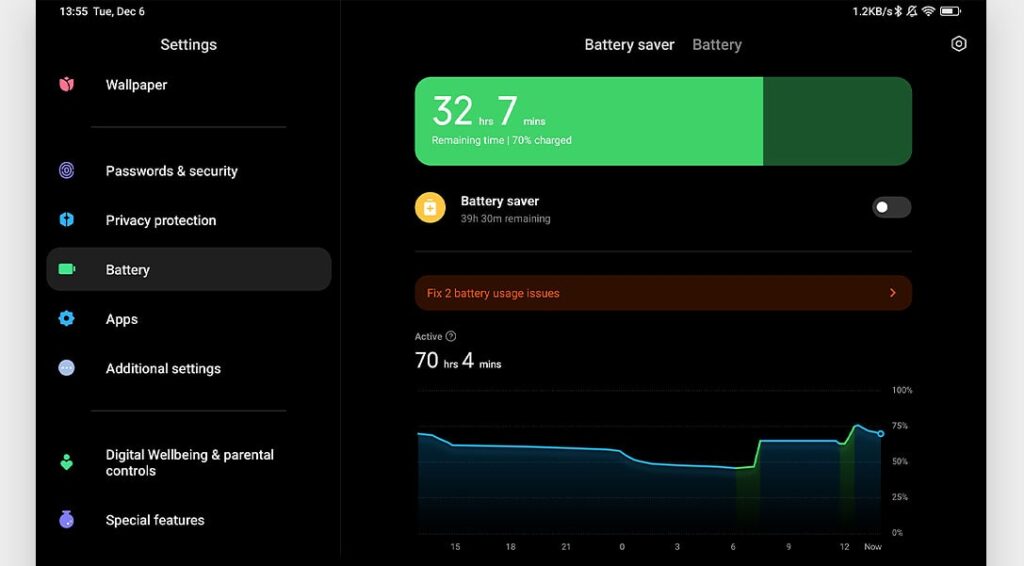 As we've tested the MIUI 13 interface with a brand new Xiaomi Pad 5 with a rather large 8720 mAh battery for a few days, we could observe how fast does the system drain the battery in ideal conditions. On a new and unused device with a few 3rd party apps installed, in our case there were no unusual changes in the battery drain after the upgrade to MIUI 13.
Keep in mind, that many of the online user testimonies we came across during our research, report varying changes in battery drain after the upgrade to MIUI 13 on their smartphones. This is because the final system battery drain always depends on many additional factors, such as the already installed apps or various user habits. Your mileage may vary!
MIUI 13 offers a battery monitoring utility in the settings menu, which is not only pleasant to look at, but also offers you all the most important functionality that you would otherwise find for example on high-end Samsung devices using the One UI solution, namely the ability to deep-sleep chosen apps, optimize the battery usage and the access to highly detailed battery drain reports. You can even check the current battery temperature in here.
In short, in our experience MIUI 13 seems to be really well optimized when it comes to battery usage by default system services.
How does MIUI 13 compare to Samsung One UI 5.0?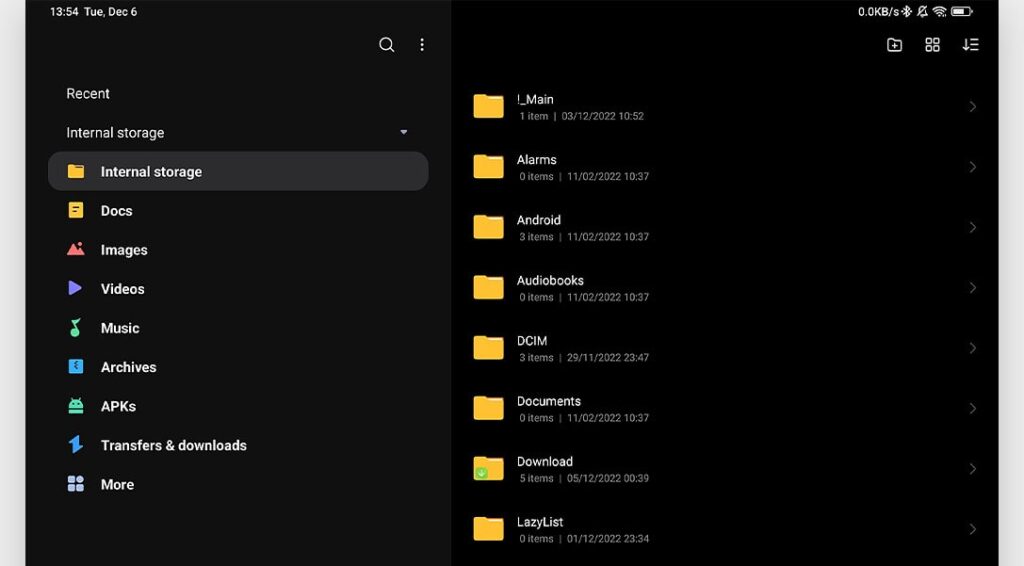 Finally, the time has come for the direct comparison of the MIUI 13 and the One UI interfaces, their functionalities, but most importantly the user experience quality with both of these.
As an author of this article I used One UI devices as my daily drivers for a few years now. An update on my Samsung Galaxy S21 Ultra to One UI 5.0, followed by my short testing experience with the Xiaomi Pad 5 enabled me to get much insight on what do Xiaomi and Samsung do different in their mobile device interface solutions.
In general, I was surprised (and quite frankly amazed) on how seamless the switch from One UI 5.0 to MIUI 13 was for me. Most of the features I used daily on my S21 Ultra were present in one form or the other in the Xiaomi MIUI 13 interface on the Pad 5.
All the things that bothered me were the small changes in where the controls are placed in the Xiaomi take on Android 12, however all of these were simply a matter of changing my user habits ever so slightly. Surprisingly, I didn't notice any kind of performance issues after the switch, although remember that this largely depends on on the tested hardware itself.
Safe to say, after this experience I would be more likely to consider using a high-end Xiaomi phone with the MIUI interface as my daily driver – a thought that never crossed my mind before!
The summary – MIUI 13 interface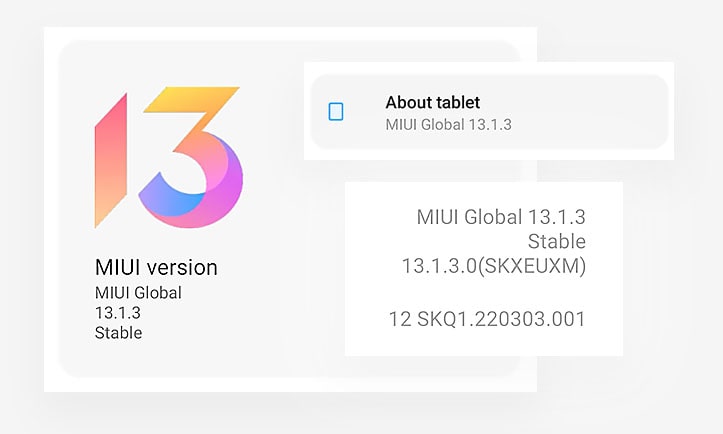 To sum it all up, while the MIUI 13 interface didn't change much compared to the MIUI 12 and 12.5, the overall interface quality and in our case the device performance seems to be a little bit better after the upgrade. With no noticeable changes in battery drain, this is good news.
In terms of functionality, while some options are simply missing when we try to compare it to the One UI feature set, all the essential features you expect from one of the most popular Android interfaces (and more) are still there. All in all MIUI 13 doesn't disappoint, there is definitely no need to worry if you're planning an upgrade, or consider getting yourself a brand new MIUI 13 compatible device!
With all this in mind, remember that some of the older Xiaomi devices that support the upgrade might experience slight slowdowns because of their outdated hardware. Always do your research before updating. If you have any questions, ask away in the comments below. That's all from us!
Check out also: Meta Quest 2 vs. Pico 4 – Which One Should You Choose?