We bought 10 cheap random Steam game keys on g2a.com to see if purchasing random PC games is really worthwhile in the end. Our testing set contained 5 "Standard" Steam keys and 5 "Premium" ones according to the product descriptions on the marketplace we used. We went through the trouble so you don't have to. What did we get? Well… let's take a closer look.
Check out also: The Steam Deck – Our Review After One Year Of Use
Where did we get the key packs?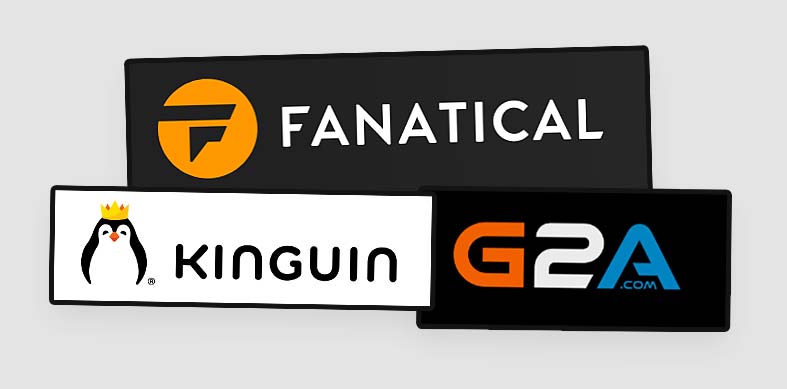 We purchased our 10 Steam game keys at the g2a.com online key store. G2A is an online marketplace that acts as an intermediary between various online game key sellers and folks like us who decide on having a chance of getting their games a tad cheaper than when buying them on the official game distribution platforms.
Note: This post is not sponsored or backed by G2A in any way, so you don't have to worry about our opinion being biased.
While G2A is a legit online business in the technical terms, remember that the products sold on the marketplace (game keys in this example) are only as good and legit as the sellers who source them and then later put them up on sale. The sellers themselves are on the other hand typically as good as the seller verification process on the platform gets, and this typically is not something an average customer has control over.
Anyhow, if you're interested in other online game key shops that distribute random game keys, you could also check out Fanatical or Kinguin. Just keep in mind to keep your expectations reasonably low, as getting keys in random packs can oftentimes be disappointing.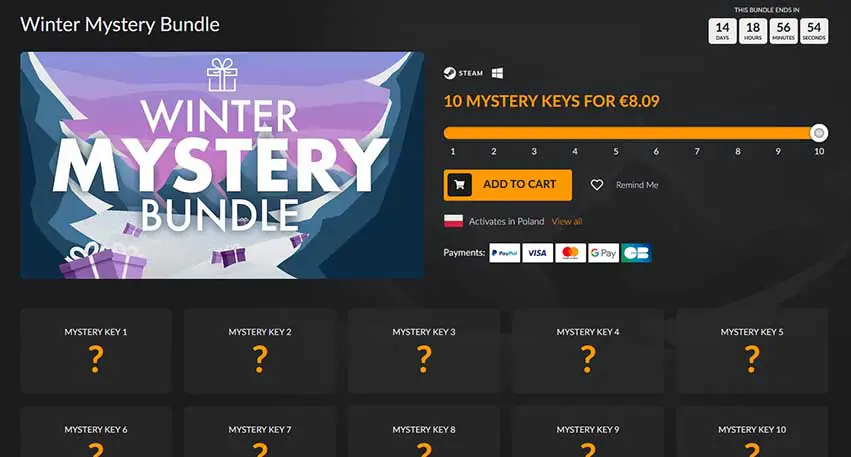 Always remember that game key stores often lay somewhere in the "grey market" position when it comes to the common public opinion. Often there is little to no transparency on where do the sold keys come from, and the sellers can sometimes try and engage in fraudulent transactions. While most key shop platforms do offer some kind of support if you got scammed by a seller, you can certainly see where do key shops lie on the "legitness" radar.
Note: On all our screenshots and images we blurred out the seller names for obvious privacy reasons.
The purchase and key pack options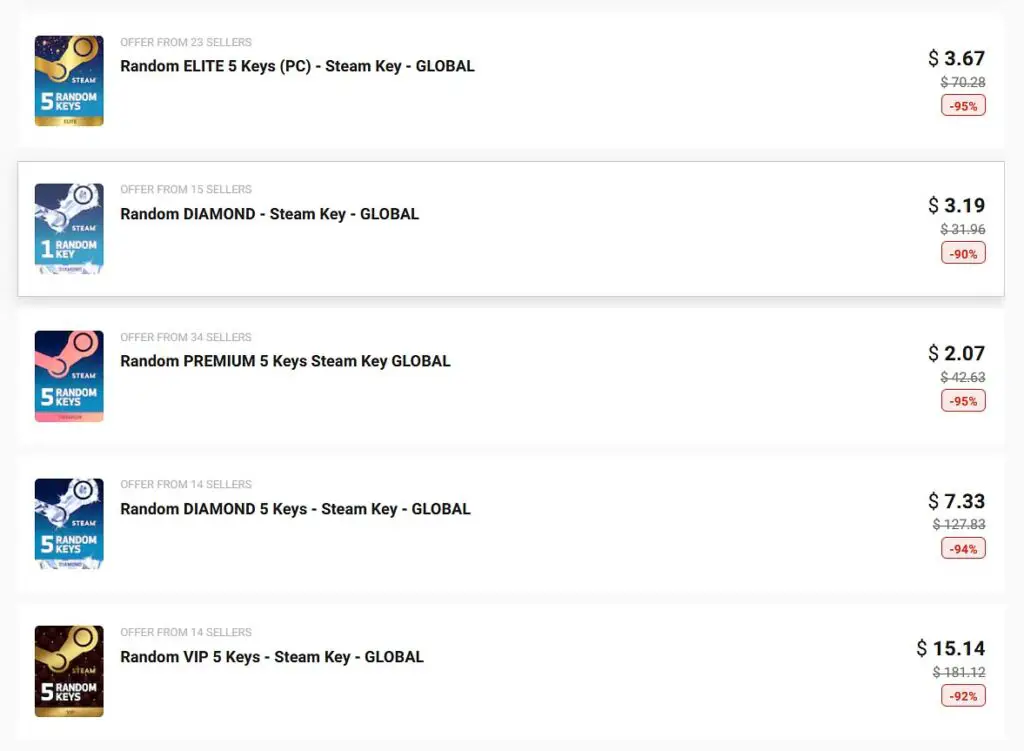 G2A offers quite a large variety of different "tiers" of random key packs, some featuring 1 random key, some 5 and more.
The discounts you can see on the image are most of the time ongoing, this basically means that the discounted price in case of the random key packs is most often the regular price of the whole pack.
In theory, you should always get games that will be worth more than what you paid for the pack. And this is the case, more often than not. Keep in mind however, that the final value of the games you got in your pack is the actual Steam price of each of the games summed up. With that said, the Steam game prices sometimes might not reflect the game's quality.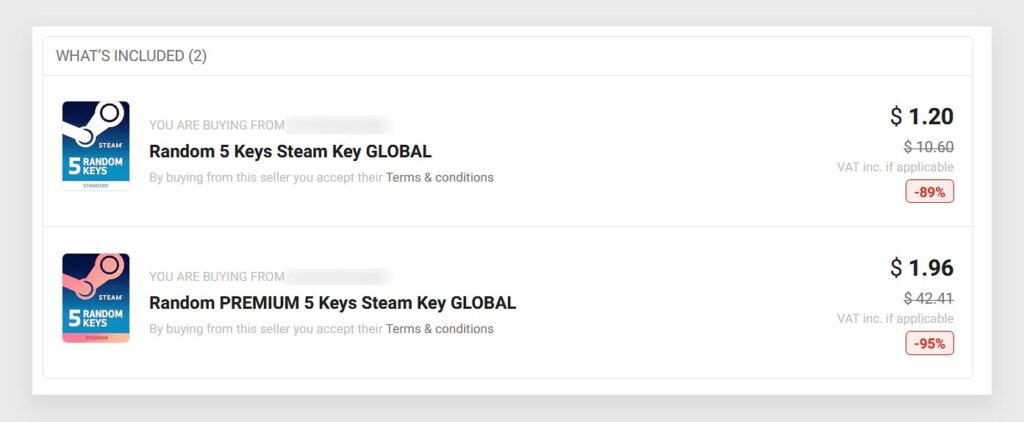 The packs we chose, were the most basic "Standard" 5 key pack and the slightly more expensive "Premium" key pack. These are the packs that most of you would probably get to see what's the basic experience with randomized game keys is like. Well, we did that for you!
The purchase itself went flawlessly and there was no trouble there at all. But now let's get to the most important part – our loot. Was looking into cheap random games worth our time?
Thinking of getting into VR? – Are Virtual Reality Headsets Worth It? (Should You Get One?)
What games did we get? – Take a look
So, what games did we actually get from our two 5-key packs for which we paid only a little over $3? In the parentheses we included the actual prices of the games on Steam, without discounts, checked on the day we purchased the packs.
First, let's take a look at the regular "Standard" G2A random Steam key package and all the games we got from it.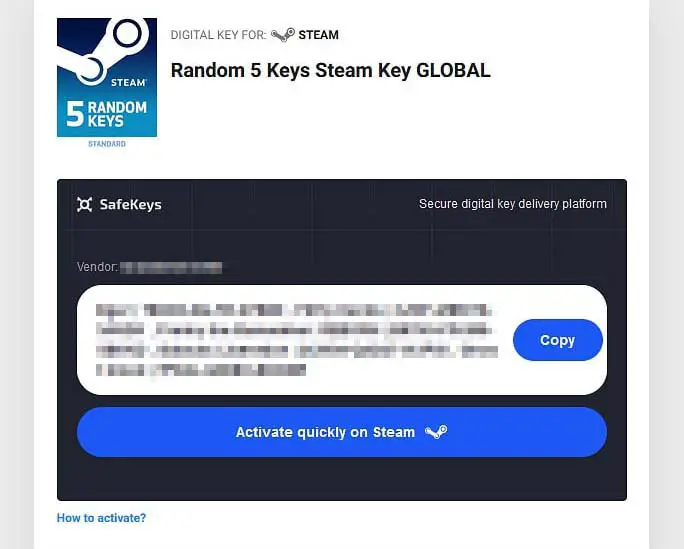 The first, "Standard" key pack contained the following games:
Total nominal value of all games: $22.95 | What we paid for all the Standard keys: $1.20
Next comes the "Premium" pack which featured a few slightly more expensive games. The random key package tiers on G2A unsurprisingly seem to be sorted and organized by the average game price in the pack.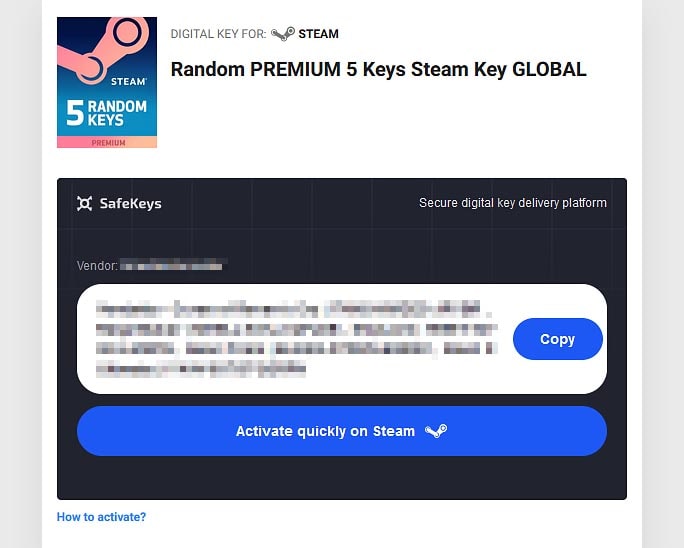 The second, "Premium" key pack had these keys to offer:
Total nominal value of all games: $77.95 | What we paid for all the Premium keys: $1,96
Feel free to click on the game names above, the links will take you to the Steam page of each of the titles so you can assess the games and their quality by yourself. As you'll see, the price of each of the games doesn't always reflect its quality.
While there most popular title we rolled was the largely critiqued Curse of Raven's Cry, we also got a few games that might actually be worthwhile for someone interested in the indie game scene. Not a bad selection overall considering the low price of the packs combined. We can safely say it's best not to expect to get popular or well-known games when getting the cheaper (lower tier) key packs.
So, is buying random Steam keys worth it?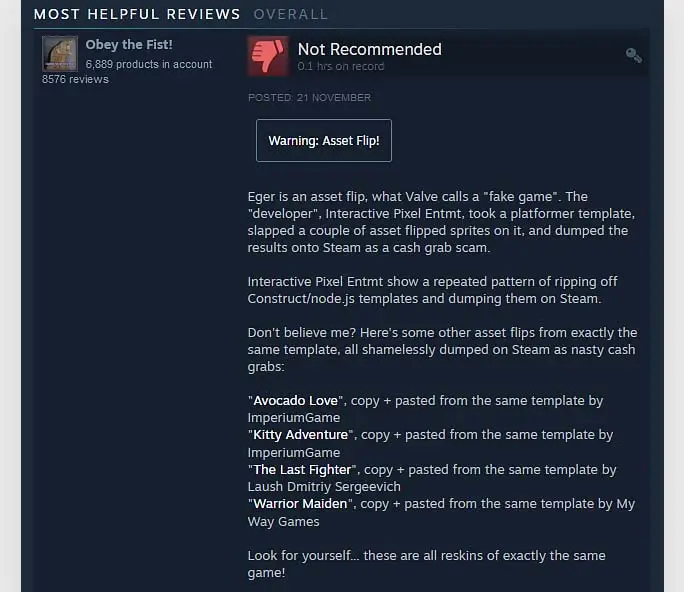 The games we rolled, while not exactly great, weren't all unplayable or completely not worth our time. With that said, two of the games (namely Eger and Galactic Liberation) were repeatable experiences accused of asset flipping, and a few other titles were small and highly specific indie productions that certainly won't be able to satisfy each and every casual player.
Once again, we can see someone who is into the indie game scene or specific niche games could be quite content with at least a few of the titles we rolled. Then again, most people getting the random packs will be likely expecting to get games they've at least heard about before. For this, the cheaper random key packs can quite frankly be highly unreliable.
Of course there is still a chance that the more expensive "Elite" or "Diamond" packages could contain better sets of games, or better chances of dropping a worthwhile AAA game key. We might check these out in our future tests so stay tuned!
Although the whole random game key purchasing experience up to this point really doesn't make us tremble with excitement and anticipation for getting our next batch of randomized key packs, the higher tier key packs are yet to be tested by us. If you'd like to see that, we'll be testing these as well!
Here at techtactician.com we strive to give you the very best answers to your questions, once we test another batch of random Steam keys, the article will be updated!
Check out also: Caveblazers – If You Liked Noita (Game Review)