How much for a lyric video? Well, as always, it depends. If you're looking for a professional lyric video but not sure how much it could cost, you've come to the right place. Check out our comprehensive guide on the general average price of quality lyric videos, learn why they cost so much, and our better and cheaper alternative for ordering affordable lyric videos online. Learn what you need to provide the seller with to order your lyric video and why hiring freelancers for this job is a good idea. Let's begin!
Check out also: How Does Fiverr.com Work For Buyers? – A Full Guide
[this article features affiliate links]
1. The General Average Cost of a Professional Lyric Video
The cost of a professional lyric video can vary depending on various factors such as the complexity of the video, the duration, the quality, and the experience of the video production company or the individual hired to edit the video. On average, a full-on professional lyric video can cost anywhere from $500 to $2000 or when it comes to more complex projects, even more – that is, when it's done by/in a "professional" studio. While this is just an estimate, and the actual cost may vary based on the specific requirements of your project, ordering a lyric video from a specialized company will always be expensive and largely unattainable for smaller musical artists.
In comparison, ordering a lyric video from a professional freelance video editor can cost you way less, typically around $50 to $200. Isn't that convenient! Much more on that in a short while.
So, the cost of a professional lyric video can be quite high, especially for independent artists or small businesses with limited budgets. However, there are some neat and efficient ways to get high-quality lyric videos at a way more affordable price. Read on!
2. Why Do "Professional" Music Videos Cost So Much?
To elaborate further on the price of "professional" music videos we have to take a look at some much important details. The production of a professional lyric video requires a significant amount of time, effort and resources, and among many other things, a higher end PC capable of effortless video editing. The process involves several stages, including scriptwriting, storyboarding, animation, and actual editing, even with the lyric videos that may seem simple and rather plain to an untrained eye.
Each of these stages requires specialized skills, software, and equipment, which can in turn be costly for the person (or a group of people) responsible for preparing the lyric video in question. Moreover, the cost of a professional lyric video also depends on the complexity of the animation, the length of the video, and the level of customization required. In addition, the cost may vary depending on the location and experience of the video production company. While investing in a high-quality lyric video can be a worthwhile investment helping to promote your music and enhance your brand image, it can be done much cheaper.
3. A Better Alternative – Affordable Lyric Videos on Fiverr.com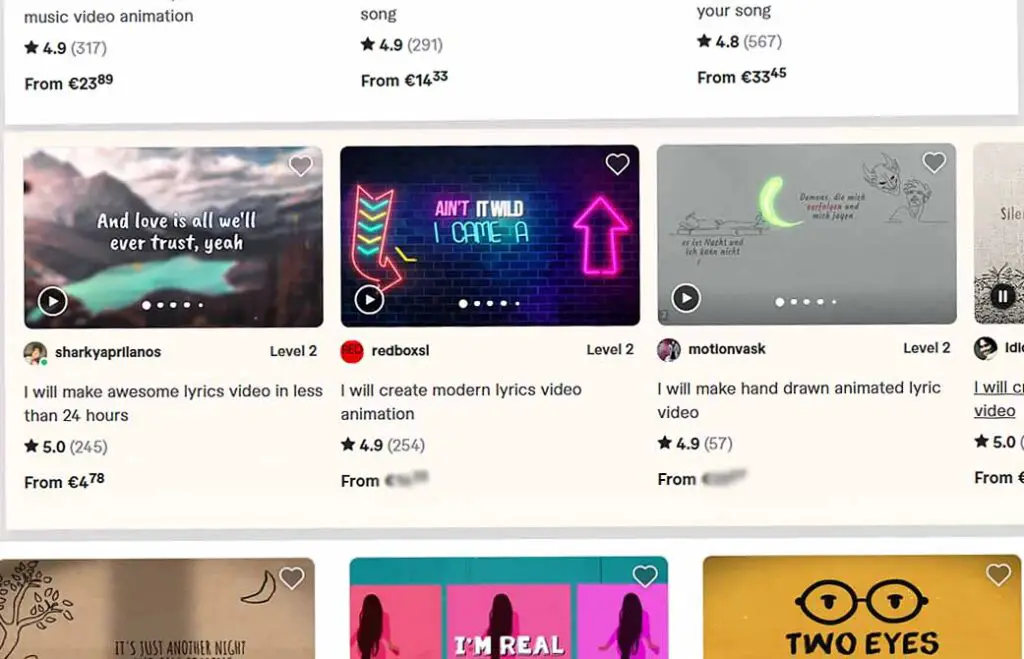 If you're looking for an affordable option for your new professional lyric video, Fiverr.com is the perfect place to start. Fiverr is a platform that connects freelancers with clients who need their services. You can find a wide range of talented freelance video editors on Fiverr who specialize in creating high-quality lyric videos at a fraction of the cost of a professional studio.
On Fiverr, you can browse through the profiles of different sellers and check out their portfolios, reviews, and pricing. You can also message them directly to discuss your project and ask any questions you may have. Once you find a seller you like, you can place an order and provide them with the necessary information and materials to get started on your lyric video.
If you don't know much about Fiverr, you might want to check our quick yet detailed guide for first time buyers on the Fiverr.com platform – you really should do that before placing your first order!
The best part about using Fiverr.com services is that you can get a high-quality lyric video, possibly for as little as a few dollars. Of course, your selected gig price will depend on the complexity of your project and the experience of the seller you choose, but you can expect to pay significantly less than you would at a professional studio. Plus, you have the added benefit of working directly with an experienced freelancer who will give your project the attention and care it deserves. It's really worth it!
4. Why Is Hiring Freelancers For This Job a Good Idea
Hiring freelancers for lyric video creation is a great idea for several reasons. First and foremost, it can save you a lot of money. Freelancers usually charge less than large video production businesses and companies, and many times this is because of much lower costs associated with the production process.
Secondly, freelancers can quite surprisingly be more flexible than larger studios. They can work around your schedule and deliver the video fast while still being able to promptly respond to all your messages regarding the project.
Thirdly, working with a freelancer can at times give you more control over the creative process itself. You can communicate with the freelancer directly through the platform you're using and make changes and revisions of the provided material along the way with minimal time delays involved. Finally, hiring a freelancer can be a great way to support independent artists and help them grow their business if you do care about that in the end.
5. What Do You Need To Provide The Seller With To Order Your Lyric Video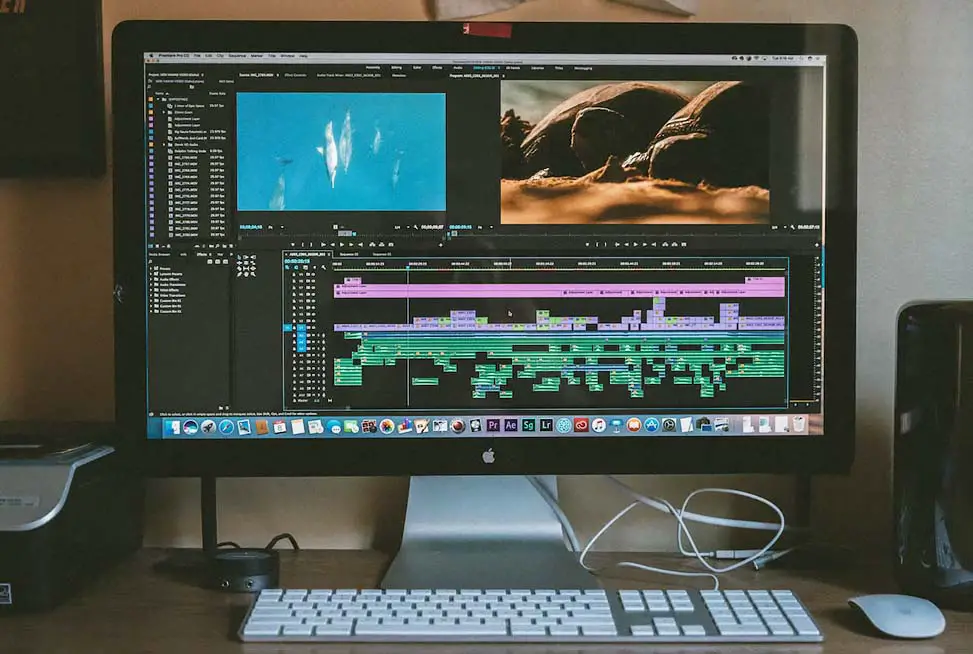 To order a lyric video on a freelance platform and get the results you deserve, you should provide the seller with the following:
Lyrics: Quite obviously, the seller needs the lyrics of the song you want to create a video for. Make sure the lyrics are correct and free of any errors to avoid having to do any unnecessary project revisions later on.
Song Audio: You need to provide the seller with the audio file of the song. Make sure the quality of the audio is good and that the file you provided is the final mix of the song that you want to be present in the lyric video that you plan to publish.
Artwork & Additional Assets: If you have any assets that you'd like to see in the final video, be sure to send them over to the seller. This way he/she'll be able to incorporate them in the final project.
Preferred Style And Theme Of The Video: You need to provide the seller with the style and theme you want for the video. Do you want a simple lyric video or a more complex one with animations and effects? Do your best to convey your creative vision so that the final product will satisfy you in the end. All the information regarding that should be shared with the seller when placing your order.
By providing the seller with all the necessary information and materials, you can ensure that you get a high-quality lyric video that meets your expectations.
For more tips on how to use Fiverr.com and similar platforms for hiring freelancers, check out our extensive guide on just that: How Does Fiverr.com Work For Buyers? – A Full Guide
6. Order Your First Lyric Video On Fiverr.com Now!
Now that you know the benefits of hiring a freelancer on Fiverr.com, you're ready to order your first lyric video. Here's a quick recap of the steps you need to take:
Head over to Fiverr.com – here is the exact page with the currently available lyric video gigs.
Look for a seller that offers the style and quality you're looking for.
Read the seller's description and reviews carefully to make sure they're a good fit.
Contact the seller if you have any questions or concerns.
Provide the seller with all the necessary information and files to create your video.
Wait for the seller to deliver the video and review it carefully.
If you're satisfied with the video, accept the delivery and leave a review for the seller. If not, ask for a revision.
Remember, Fiverr.com offers a secure platform for buyers and sellers with thousands of people using it daily, so you can trust that your transaction will go smoothly and you'll receive the final product you wanted. With affordable prices and a wide range of talented sellers to choose from, Fiverr.com is the perfect place to get your first lyric video. Learn more about Fiverr.com here.
You might also like: How To Grow Your YouTube Channel Faster With Fiverr