If you're considering making use of Fiverr.com freelance services, this guide for beginners is the right place to begin. We're about to not only get you into all the ins and outs of the platform in this detailed review for buyers, but also share with you our experience with tens of orders that we've made there along the way. You will learn how to use Fiverr in minutes!
We will also let you on a few neat tips on how not to get scammed when working with any kind of freelancing platform. This is the definitive guide that you really should read before proceeding with ordering any kind of gigs from Fiverr.com. So, let's get started right away!
[this article features affiliate links]
Check out also: Is Buying Blog Posts On Fiverr Worth It? (Let's See!)
How To Create a Buyer Account on Fiverr.com?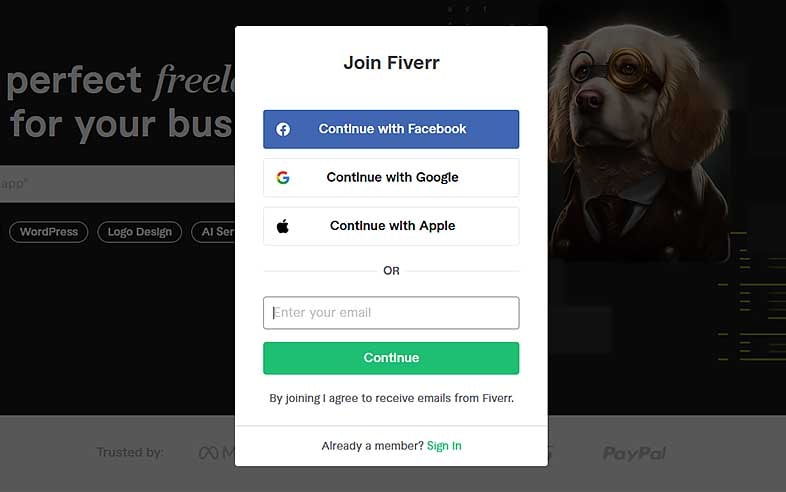 This is actually the easiest part. The only thing you need to do is to sign up for a new free Fiverr.com account here, supplying your email address and some basic information. After you do that, your account will automatically be registered as a buyer account and you can start talking to sellers and browsing gigs right away!
Right after registering, you'll be able to not only view all the gigs you're interested in like you could before having an active account, but also:
Create custom lists of your favorite/chosen gigs – this is one of the most important perks of browsing Fiverr while signed in, as you can easily come back to the gigs you've already visited and catalogue them in your own curated lists for later use.
Contact the sellers and ask them questions about their services – very important if a particular seller only accepts orders after first contacting him.
Finally, you can now safely order gigs and receive additional gig revisions if the work you've ordered requires them.
In general, It's very much beneficial to sign up for a Fiverr account as early on as possible. You both get access to quite a few nice features on the platform, and also gain more buyer's trust when ordering having an account which was not created at the very same day you place your first order.
Is Creating a Fiverr Account Completely Free?
Creating a Fiverr account is 100% free and there are no payments or hidden fees associated with using the platform other than paying for the actual freelance services you'll choose to make use of in the end.
Signing up here, you can create your new free Fiverr.com account in a few seconds and enjoy all the platform features completely for free until you decide to order a particular chosen gig. Even then, you won't be charged until adding your preferred payment method and going through with the payment process after selecting a specific gig. No worries about losing your money by accident!
The only fee for a buyer that may not be that obvious at first is the "Service Fee" that's added to the final cost of your ordered gig at checkout. This is a simple and small administrative fee – a common practice on many different freelance websites. Even then, this is clearly stated before you decide to pay for your order.
The Fiverr Search Engine + Categories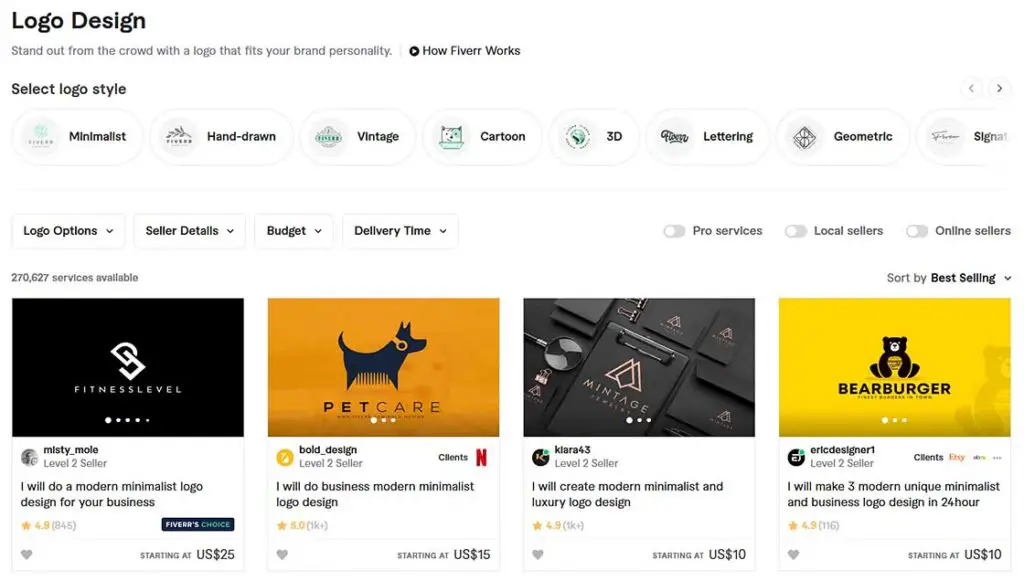 The Fiverr search engine is the place where you'll be able to find the gigs that interest you. Fiverr.com has an excellent system of gig categories that you can use to find exactly what you want in just a few seconds.
In general, the best way to search for a gig on Fiverr is first selecting the category you're interested in, for example "Digital Copywriting", and then when the "most relevant" gigs will display, narrow your search results by one of the search filters Fiverr.com offers.
You can filter gigs by the best reviews, final price, a number of reviews and much more. If you want to be even more sure that you'll be getting a good quality service, you can even filter the results by the level of seller's experience.
One step further from this is flicking the small "Pro" switch next to the search filters section. "Pro" sellers are the ones that are officially verified by Fiverr.com, already have had lots of happy customers and are generally the best in their particular field. While the "Pro" services will always be a little bit more expensive than the regular ones, they are of the best quality in their category.
Gigs – What It All Centers Around
When you'll select a gig that interests you, one of the first things you'll notice is the main gig images and the actual offer of the selected seller.
The 4 most important things on the gig page on Fiverr are:
The gig description – The place in which all the information about the gig will be presented to you. Here you can most often find all the things that the seller can do for you in terms of this particular gig and all the things that he/she requires from you to carry out their work properly. Some sellers also do advertise examples of their work in the gig descriptions to make you choose their specific offer. An extension of the gig description is the optional FAQ section in which the buyer is able to provide answers for the most popular questions regarding their gig.
The main gig images – On the top of the gig page, there will be a few images that the seller has provided alongside with their gig description. These will in most cases include both the photo of the seller and their representative gig image, and examples of their work. Their quality can be really telling when it comes to the final quality of the buyer's work, however it goes without saying that this is not always the case – ~never~ judge the book by its cover.
Gig levels/options – On the right side of the main gig images, you can find the actual offer. There will be 3 basic gig tiers visible to you, the first one being the cheapest one, the second one being the mid-tier one, and the last one being the most expensive and fully-featured option in the offer. These tiers will be naturally different with different gigs, but in general they won't really differ in terms of quality, but rather in the amount of work that's going to be done for you in the end.
Buyer's reviews – One of the most important sections we haven't mentioned yet is the gig reviews section. Here you can find buyer's reviews that in most cases will give you a good idea on how good the seller actually is when it comes to their craft. Watch out for a few things. First one – a low number of reviews, second – lots of reviews from the same person (on Fiverr a single person can review the gig each time they receive their order generating multiple reviews). The best way of using reviews for gig quality indication is to browse through the >4 star reviews. These in most cases are the most telling when something may be slightly wrong with the service the seller provides.
These are the most important elements of a Fiverr listing that you should use to decide if the specific gig you've chosen will really be the best one for your needs.
Here are some examples of gigs available on Fiverr.com, take a look:
How Do You Pay The Sellers?
On Fiverr.com, you pay the sellers in advance by clicking the order button and selecting your payment method, and only then you are prompted to input the details that the seller will need to carry on with your order.
This might not be that straightforward for the first timers, as we've often found that new Fiverr users are confused by needing to pay for the gig before providing the seller with the actual details for the order. Don't worry though, the buyer won't receive neither your money, nor your order until you decide to enter the needed details, so you have just as much time as you want to come up with what you need to include in your order form.
Fiverr does accept both credit card and PayPal payment methods.
We've made tens of successful orders of Fiverr and haven't lost a single penny, so we can guarantee that all the payment methods available on Fiverr.com are legit and safe. What happens when you don't like the final result of a sellers work? Well, there are two nice ways to deal with that here: either request a revision of the provided content if that option is available, or ask for a total refund of your money which every seller can initiate on their end. Among all our orders though, we didn't have to do that even once!
Revisions, Ratings and Reviews – After You've Received Your Order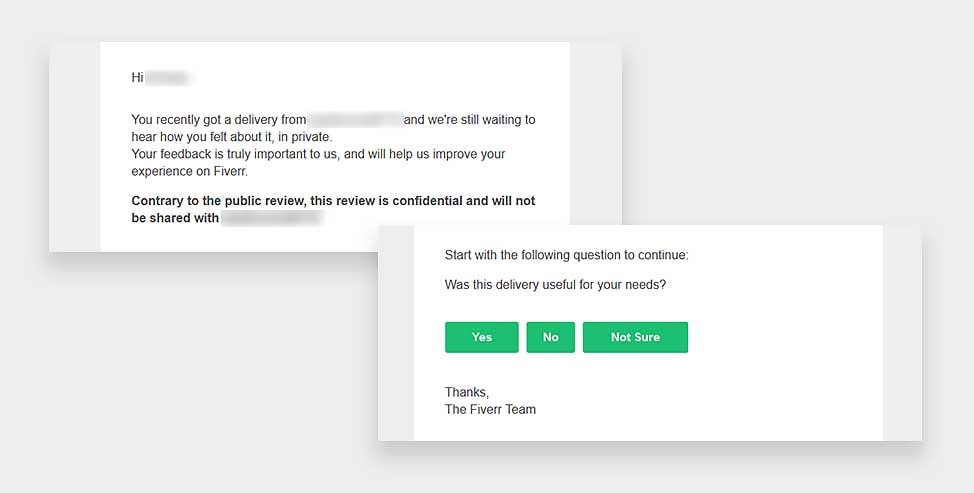 So, each seller is able to provide a certain amount of completely free revisions of their work, however how many of these they'll settle with (if any) depends on the sellers decision when creating their gig. The information about the available revisions will be clearly shown on the main gig page before you place an order.
After receiving your order and finally accepting it, you will be prompted to rate the gig using a few 1-5 star indicators and providing a short written review of the service you received. By default, later on you will receive an email asking you to provide another, this time anonymous review of the gig directly to Fiverr.com. While the first review is public and can be seen on the seller's profile, this second anonymous feedback is private and won't be shared with the seller.
Both reviews take around 1 minute to fill out and are fully optional – you can completely ignore them if you want to!
What's interesting here, is that after an order is finished, the seller is also able to rate you as a buyer, for example in terms of ease of communication and the overall quality of your short collaboration.
Can You Get a Refund For Order on Fiverr?
Full refunds are entirely possible on Fiverr, although they don't happen very often. Generally, all the sellers are able to initiate a full service refund on their side if the situation calls for it. If you ever need a full refund, just message the seller about it.
Really, not much more to say here, as we've never come into a situation in which such a refund would've been necessary. And that's a good sign!
How To Contact a Seller on Fiverr.com?
This is actually one of the easiest things to do on the platform. To contant a seller, simply use the built-in messaging utility which you can access either from the gig page or the seller's profile. A neat thing about this is that on each seller's profile you can see how fast they tend to respond to the buyer's messages. This again, can be another good indicator of the overall service quality.
Generally, it is not advised to contact the seller through any other means than the official Fiverr website. Fiverr staff doesn't have access to any messages exchanged outside the platform, so resorting to 3rd party communication means can really mess up things if you'll end up needing support from Fiverr for whatever reason later on.
In general, the messaging system is a really strong part of the Fiverr.com platform. We never encountered any problems with it and it makes contacting buyers for getting additional details a breeze!
What To Keep In Mind When Ordering Gigs on Fiverr?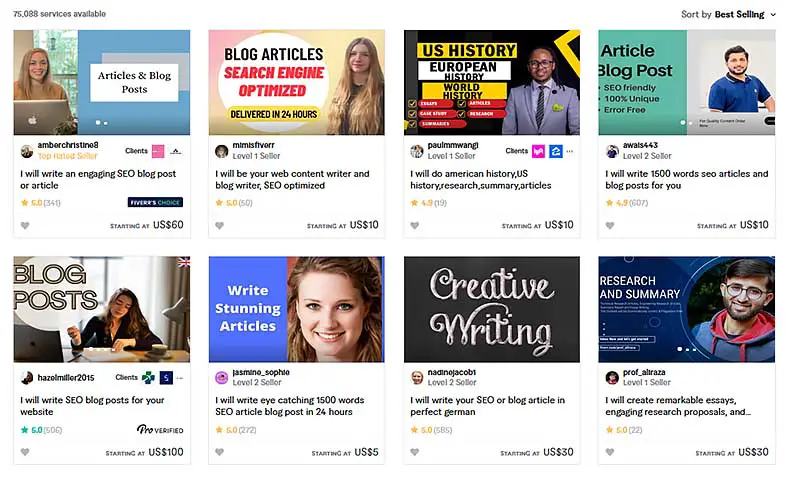 As with all freelance platforms, the general quality of the services provided by the sellers will vary with their experience, expertise in their field and in most cases – the gig price.
The most important things that you should keep in mind while shopping around on Fiverr are as follows:
The authenticity of the sellers account – although this may be hard to judge, check if the account features actual pictures of the seller and real proven examples of their work. The more information is available on the seller's profile, the better overview of their overall online persona you have. This can be a major factor when deciding whether you really want to start working with that particular person, or not.
Examples of their work – as we've mentioned, many sellers do share examples of their work, either in the main gig pictures area, or within the gig description. These in most cases will be the most important things you'll want to take a look at before placing your order. Keep in mind, that some sellers only provide samples after you message them first. Be sure to ask for these if they aren't provided anywhere in the gig description.
Reviews – bad & good ones – in most cases, you'll want to look at the negative reviews first. There you can see the most common issues that unhappy buyers will have with the particular seller or gig. Then, take a look at the 3-4 star reviews too, as these can also contain valuable info. Of course, remember that gigs without many finished orders most likely won't have that many reviews available, so here you'll have to rely on other factors to make your final decision.
Gig description details – once again, be sure that you've read the gig description thoroughly, as this is where the most crucial details about the gig will be. The devil is in the details, so pay close attention to these!
Number of total orders and orders in queue – a popular seller with a few hundreds of orders made is most likely a seller whose work is beneficial for most of his clients. You should also take a look at the overall number of orders queued up in a specific gig – you can see this number next to the number of all orders, at the top of the gig page.
These are the most important details you should pay close attention to before choosing a gig that's the best for your needs – on any kind of freelancing platform really. At least that's what we do every time when hiring copywriters on Fiverr.
Fiverr – A Buyer's Guide Conclusion – Is It Worth It?
So, as you can see, Fiverr.com is a platform on which you can safely hire freelancers and order many useful (and affordable) gigs without worrying about losing your money in the process.
Using Fiverr as a buyer is a really good idea if you want to outsource your work and not waste hundreds and hundreds of dollars on that, and that's just what we're doing here at techtactician.com when outsourcing various copywriting tasks!
One of the best things about Fiverr (in our experience), is that it offers an outstanding amount of service offers in tens of categories at every imaginable price point. There are a lot of offers to choose from, and this is probably one of the best advantages of the platform. After doing some digging, you'll be able to find quality gigs for a great price which you'll most likely come back to for more.
Creating a Fiverr.com account is free and takes about 30 seconds, so trust us on this one and start hiring freelancers to do work for you right now!
Check out also: How To Grow Your YouTube Channel Faster With Fiverr