Hey there, fellow gamers! Are you in the market for a new latest gen high end gaming laptop that can take your gameplay to the next level? Look no further because we've got you covered! 
We've compiled a list of the 5 best top quality 4k gaming laptops that are guaranteed to provide you with maximum gaming fun in 2023 – all in UHD resolution with no performance issues!
Gaming laptops have come a long way in recent years, and with 4k displays becoming increasingly common, the visual experience of gaming has never been more immersive. But with so many options out there, it can be overwhelming to choose the right one for your needs.
That's where we come in! 
In this article, we'll give you an in-depth review of each laptop and highlight its features and we'll also provide you with a comprehensive buyer's guide, so you can make an informed decision based on your available budget and preferences. Prepare to see the very best 4k laptops the money can get you in 2023!
So, get ready to level up your gaming experience, and let's dive right in!
What Made Us Narrow It Down To These Particular Devices?
We know that when it comes to gaming laptops, there are a lot of options out there, which is why we took a thorough and systematic approach to select the top 5.
Firstly, we researched and analyzed the latest trends and advancements in gaming laptop technology. We also considered factors such as performance, graphics, display, and price range.
Subsequently, we went through reviews and comments from users as well as experts to comprehend the strong points and shortcomings of each laptop. We also looked at customer satisfaction ratings across different platforms to gauge the overall experience of users with each of the listed devices.
Finally, we took a direct approach and tested the machines that were available to us right away. Based on these criteria, we selected these five 4k laptops that we believe offer the best balance of performance, graphics, display quality, and value for money. We're confident that our list includes the top contenders for any gamer looking to take their gaming experience to the next level.
So, take a look at the devices we found to be the most worthwhile ones in the current year. Quite frankly, you can't go wrong with any of these!
1. ASUS Rog Strix King Aero 16 OLED 4k Gaming Laptop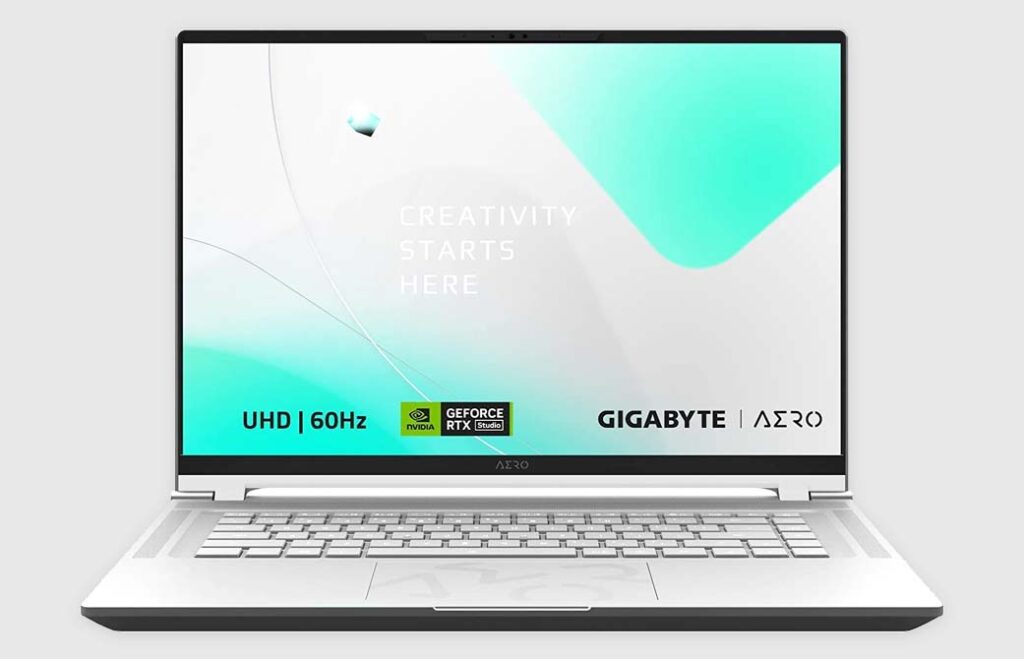 Are you a gamer looking for the most incredible gaming experience? Look no further than the ASUS Rog Strix King Aero 16 OLED.
This ultra-modern laptop is designed with a sleek and stylish exterior, as well as an the latest Intel i9-13900H processor on board for enhanced gaming and work performance.
It features a 16.0″ 4K OLED 60Hz display conveying vivid colors and images presented with perfect contrast and sharp detail at all times.
The powerful dose of 64GB DDR5 RAM works in concert with the large and blazing fast 2TB Gen4 NVMe SSD to provide blazing-fast loading times which is ideal for heavy gaming sessions, as proven by the benchmarks.
The NVIDIA GeForce RTX 4070 graphics card wchich you can find inside of this beast of a laptop provides 8GB of VRAM so you can take your immersive gaming experience to new heights! On top of that, it comes with Windows 11 preinstalled getting you up and running right out of the box.
With its 3-year CUK Limited warranty, you don't have to worry about any repair/replacement costs – ensuring that all your gaming needs are taken care of.
Get ready to dominate the competition with the ultimate hardware – ASUS Rog Strix King Aero 4K Gaming Laptop! – Check Price on Amazon
2. MSI Raider GE66-15 15.6″ 4K Gaming Laptop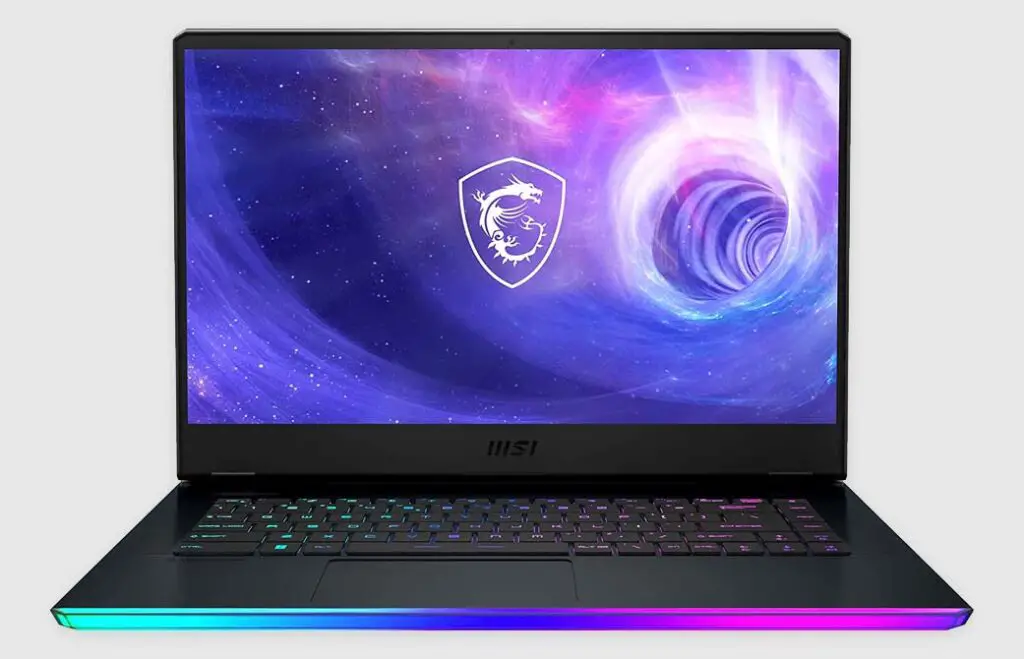 Introducing the MSI Raider GE66-15 15.6″ 4K Gaming Laptop, designed solely with mobile 4k gamers in mind. This top-of-the-line gaming laptop is powered by Intel's flagship i9-12900HK 14-Core processor and an impressive 32GB of lightning-fast last-gen DDR5 RAM, allowing for seamless multitasking and uninterrupted gaming sessions without worrying about low FPS on the higher 4k screen res setting. 
It's equipped with an ultra-powerful GeForce RTX 3080 Ti 16GB GPU, capable of delivering buttery smooth frame rates and breathtaking visuals. Pre-installed with Windows 11 Home-64, you can get straight into the action hassle-free – no further setup required!
With 1 TB SSD storage, you won't have to sacrifice performance to store all your favorite games, music, and movies. To take your gaming style to the next level, this laptop features a 120 Hz display refresh rate for the smoothest experience you can get. Once you try gaming in 4k 120 Hz you can never go back! It also has an RGB backlit keyboard and Wi-Fi 6, Bluetooth 5.2, and Thunderbolt 4 (Type C) ports for extended connectivity. Moreover, you can find one HDMI port, one Mini DisplayPort, and two USB 3.2 Type-C Gen2 ports on the device.
As if that wasn't enough, it even comes with a 1 Year Manufacturer's Warranty so you can game without worry!
Now experience ultimate 4k gaming bliss no matter where you are – Get your MSI Raider GE66-15 today! – Check Price on Amazon
3. Dell XPS 17 9710, 17″ UHD+ (With Touch Display)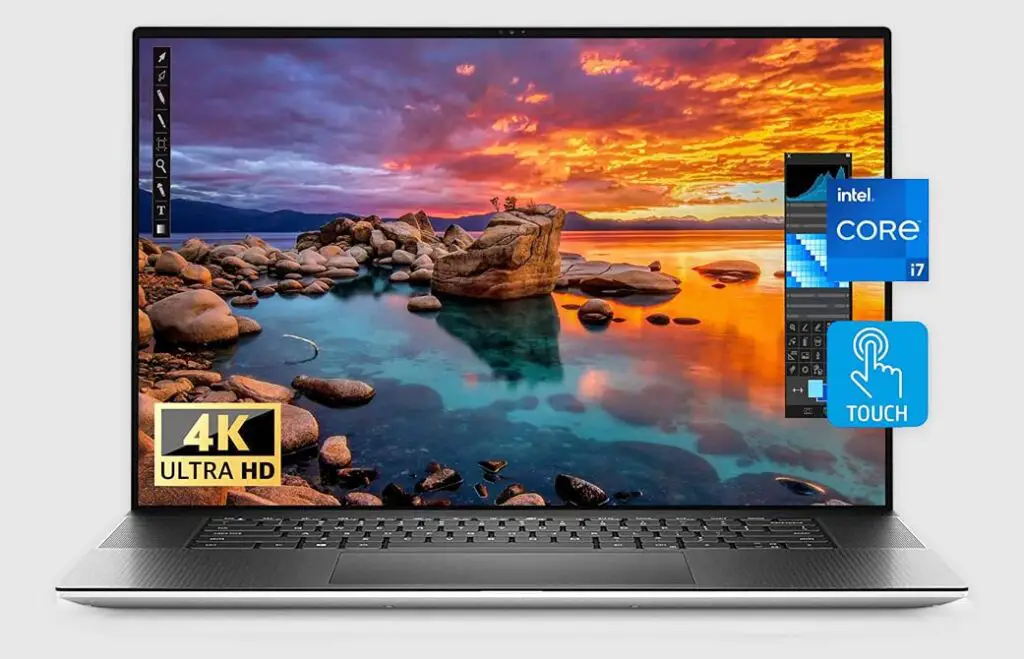 If you're a gamer looking to experience the cutting-edge of what gaming laptops have to offer, look no further— the Dell XPS 17 9710 is designed to give you the ultimate gaming experience.
With its 17″ UHD+ Touch display, feel fully immersed in your game with vivid colors and near-lifelike imagery that will make it feel like you've stepped inside your favorite game world.
And with Intel i7-11800H power, powerful GeForce RTX 3050 graphics, and 32GB of RAM, this laptop will satisfy even the most hardcore gamers— providing enough computational power to handle even the most demanding AAA titles.
Plus, storing all your game save files and media won't be an issue with a 1TB SSD storage capacity. That's not all. With IR Camera and Fingerprint Reader, you can rest assured that your data remains safe and secure while enjoying faster logins when booting up your computer. Neat!
Wi-Fi 6 connectivity capabilities provide you with optimal network performance for smooth online gaming sessions while Thunderbolt technology lets you quickly access external devices with convenience and speed. Many great features here!
And of course, Windows 10 Pro is installed so all your games run outperforming expectations right after you get your laptop unpacked!
Get ready to completely revolutionize how you game: buy your very own Dell XPS 17 Laptop 9710 today! – Check Price on Amazon
4. ASUS VivoBook Pro 16X 4K Gaming Laptop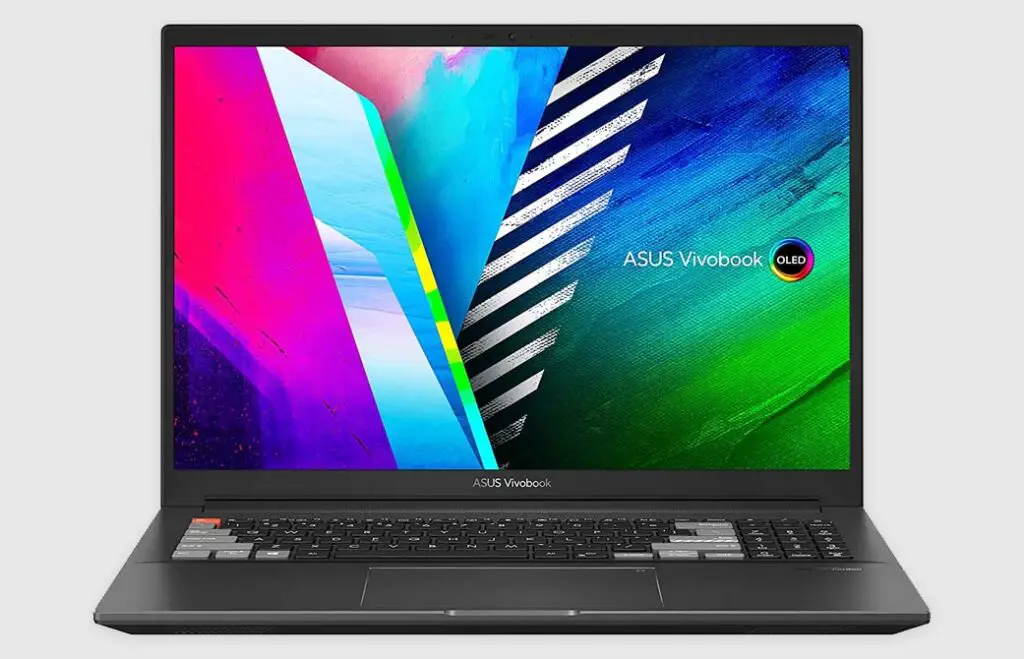 Take your gaming to a completely new level with the ASUS VivoBook Pro 16X 4K Gaming Laptop. This laptop was made specifically for the most demanding 4k gamers, equipping them with an AMD Ryzen 9 6900H CPU and NVIDIA GeForce RTX 3050 Ti graphics to give you plenty of horsepower for even the most demanding game titles. 
Enjoy a truly breathtaking gaming experience without performance issues! With its sleek design, this laptop is also perfect for those who want a powerful machine that looks just good and isn't heavy and bulky like most of the early-gen gaming laptops from the beginning of the decade. 
The 16-inch 4K ultra HD display provides clear, vivid visuals while the wide 16:10 aspect ratio gives you quite a nice view of every gameworld you devide to visit. The powerful graphics card ensures everything runs smoothly and quickly – even on a high resolution 4k panel like this. 
It has 32GB of RAM and a 1TB SSD drive for smooth multitasking and ample storage for all your favorite games. Windows 11 Home operating system which the machine comes with is also a great addition.
Nothing is sacrificed in terms of style on this neat and sleek device, as the gray color scheme will suit both hardcore gamers and people who also use their laptops publicly for work.
The ASUS VivoBook Pro 16X 4K Gaming Laptop is perfect for those who demand power, speed, and style from their machines – giving them the edge they need in their gaming sessions! – Check Price on Amazon
5. Dell XPS 13 9310 Touchscreen Laptop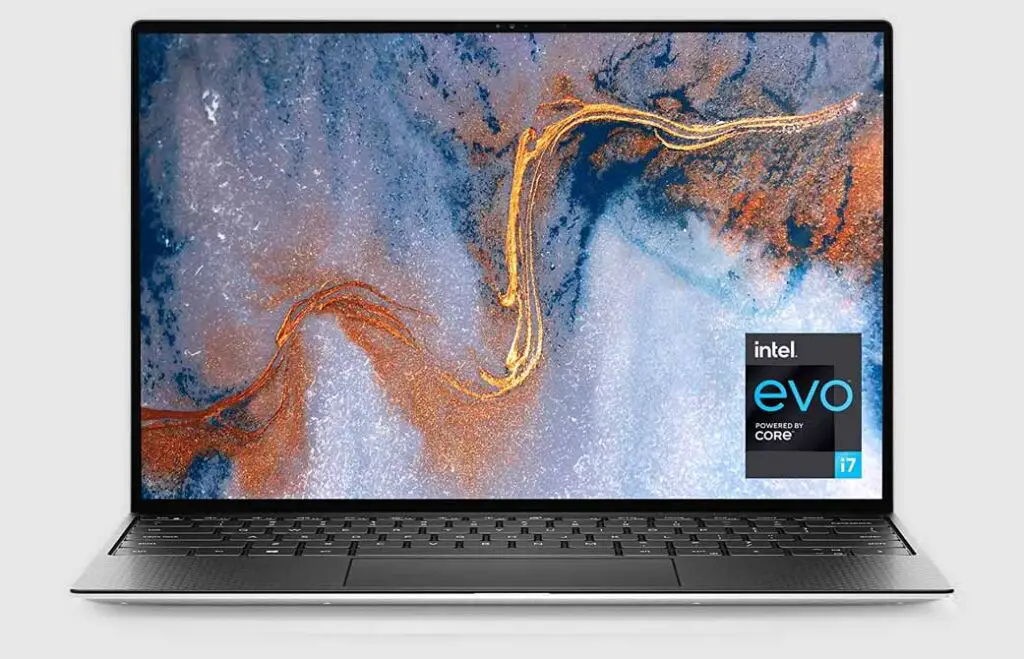 Are you looking for another great 4k gaming laptop with a touchscreen? End your search with the Dell XPS 13 9310. It is thin, sleek like the previously mentioned ASUS device, and its 13.4-inch UHD+ Display makes sure that your gaming experience is a cut above the rest. 
Embedded with Intel Core i7-1195G7, you get the power to do whatever you need faster than ever before! 
Moreover, it comes with 16GB of LPDDR4x RAM and 512GB SSD drive that ensures startling speed while multitasking or playing games. The Intel Iris Xe Graphics as well as Killer Wi-Fi 6 + Service offer great performance with uninterrupted connectivity, making sure nothing holds you back! And of course, it comes preloaded with Windows 11 Home for maximum productivity. 
Plus, it looks gorgeous in its classy silver finish!
The Dell XPS 13 9310 Touchscreen Laptop provides an immersive gaming experience at an unbelievable price – so check it out today and be blown away by the life-changing 4k gaming experience! – Check Price on Amazon
Tips to Choose the Best 4k Gaming Laptop: Short Buyer's Guide
In this quick buyer's guide, we'll walk you through the key factors to consider when choosing the best 4k gaming laptop.
From display and graphics to processing power and cooling, we'll cover everything you need to know to make a good decision and find the perfect laptop for your gaming needs.
Display – The display is the centerpiece of any gaming laptop, and for a 4k gaming experience, it's crucial to choose a laptop with a good quality display. Look for laptops with a ~3840×2160 resolution, HDR support, and if possible, a high max refresh rate value of 120Hz. Remember that 4k displays will use a little bit more energy when used at the max resolution, which might in turn affect the overall battery life of the device. 4k gaming will also require quite a bit of computational power, but all the devices we mention in this list are capable of standing up to that task.
Graphics – The graphics card is another essential factor to consider when choosing a 4k gaming laptop, as the higher the screen resolution, the higher the hardware requirements to run games at decent framerates. Look for laptops with dedicated graphics cards, such as Nvidia or AMD, with at least 6GB of VRAM. The newer the better!
Processor – A powerful processor is necessary for a smooth gaming experience, especially on devices with 4k displays. Look for laptops with latest gen Intel Core i7 or i9 or AMD Ryzen 7 or 9 processors. This is the part that's the most important aside from choosing a laptop with capable graphics card. Once again, refer to our list to make the right choice!
Memory – A minimum of 16GB of RAM is recommended for modern gaming laptops. The old minimum of 8GB is already a dated standard, mostly unfit for latest generation gaming. However, if you plan to play more demanding games or multitask with more demanding software (think video editing), consider a laptop with 32GB of RAM for the best performance.
Storage – Look for laptops with solid-state drives (SSD) as they offer faster load times and boot times than traditional hard drives. A minimum of 512GB of storage is recommended to be able to hold a few of your favorite games on the drive without worry. If your local games library is a little bit larger though, we really recommend you to go with at least a 1TB drive. Then, you'll be able to store all your data, games and software without making any compromises.
Cooling – Gaming laptops tend to generate a lot of heat, which can negatively impact performance, this is a common issue with these kind of devices. Look for laptops with efficient cooling systems and adequate ventilation to prevent overheating. Look through reviews for comments about overheating to make sure that the temperatures won't prevent your chosen laptop from reaching its peak performance during your prolonged gaming sessions.
Battery life – Gaming laptops tend to have shorter battery life than regular laptops due to their high-performance hardware, and a 4k display used at max resolution can further decrease the max battery life of a chosen device, especially when gaming. When it comes to current gen gaming laptops it's best not to rely on the in-built battery too much and rather focus on the plugged-in performance. Long sustainability (more than 2 hours of battery life) during gaming is largely unattainable, no matter the chosen device's price range – that's just how it is.
Price – 4k gaming laptops can be expensive, with prices ranging from $1500 all the way to $3000 and up. Determine your budget and look for laptops that offer the best value for money based on your needs.
Brand reputation and customer support – Consider the reputation of the laptop brand and the quality of its customer support. Look for laptops with a good warranty and reliable customer service in case you encounter any issues. Keep an eye on additional bonuses you can get when purchasing your chosen device. These often include special software deals that can be really worthwhile when you look into them!
The Conclusion – Best 4k Laptops This Year
And there you have it, folks! 
Our comprehensive list of the 5 very best 4k gaming laptops for maximum gaming fun in 2023, along with a quick buyer's guide to help you make the right choice has come to it's conclusion.
As gaming technology continues to advance, these laptops offer an unparalleled gaming experience that will immerse you in your favorite games like never before. Whether you're a casual or a hardcore gamer, our top picks are sure to take your gaming to the next level.
We hope our review and buyer's guide have been helpful in your search for the perfect gaming laptop. If you have any questions or comments, please leave them below, and we'll be happy to help you out.
So, what are you waiting for? Grab your new gaming laptop, and let the fun begin!
Main article photo: Artin Bakhan